| | |
| --- | --- |
| Archive | |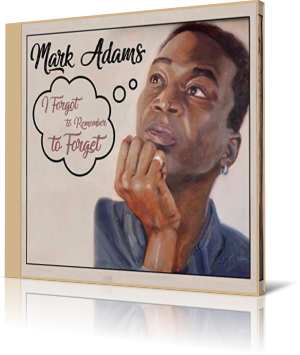 Baltimore born jazz pianist Mark Adams had the great fortune to grow up in a musical household. In earlier years he was taught by his mother, a former music instructor. A musical director, teacher, composer and foremost a musician of his own Mark debuted in 2001 with his groundbreaking album Asceticism, followed by Feel the Groove (2007), Something's Going On (2009), Embellishments (2011), Conversations (2012) and Love and Dance (2016).

His newest project bears the strange title I Forgot to Remember to Forget (2018). Mark performs on the new album piano, keyboards, Rhodes piano and Mini Moog. Further musicians are Trevor P. Allen (bass, producer), Jason Patterson, JT Lewis, Gintas Tanusonis, Chris DeCarmine, Camile Gainer (drums), Bendji Allonce (percussion), Abdul Zuhri (guitar), Sophia Nicole, Jonathan Quash (vocals), Gerald Thomas (sax, flutes), Joe Porcelli (trumpet, flugelhorn), Andre Atkins (trombone), Ron Carter, Donald Nicks, Gerald Lindsey, Curtis Morrison, Dave Jones (bass), Waldron Ricks (trumpet), Bill White, Larry Tamanini (guitar), Robert Meeks (keys and programming), vibes & vocals Roy Ayers.

With Woke Mark builds the first musical circle of magic with a sophisticated horn arrangement and refined piano playing. Fight the Good Fight features rapper Leonard in a breathless, evocative song. I Forgot to Remember to Forget serves a sonic alternative with singer Sophia Nicole which, however, can shine more with the harmonious song structure than with detailed lyrics.

Hindsight convinces with an orchestral approach reminiscent of the big bands of the 50s and Shaft's film music. An exquisite gem of smooth jazz recommendable for every radio station. With Latin Mi Mark energetically enters the field of Salsa and delivers a horn arrangement to melt away. The trip to synthesizer is ingenious. Bassist Ron Carter originally wrote and recorded Blues for D.P. in memory of his friend bebop pianist Duke Pearson who had passed in 1980. Mark Adams has managed to win Ron Carter for a session in which this piece comes back to life.

The vocal sequence on Check Your Soul is inspired by Stevie Wonder (Don't You Worry 'bout A Thing). Mark does his own thing on the piano with this in mind. Waldron Ricks' trumpet solo is stunning. The dynamic and vibrant What You Want features Mark as pianist and singer. Marleigh was originally released on Mark's album Something's Going On. This tribute to Mark's daughter features Mark's mentor and first producer Roy Ayers on vibes.

Silent Cry is without any doubt a revelation. Mark plays with an intensity and virtuosity that is unprecedented. Here We Go Again presents the fabulous singer Jonathan Quash who impresses us with an incredible vocal volume. In Your Own Sweet Way is a jazz standard by Dave Brubeck (1955). While Brubeck performed the tune in a swing mode, Mark transforms his interpretation to a contemporary style involving anew his brilliance.

With I Forgot to Remember to Forget Mark Adams creates a sparkling mirror of his musical personality as diverse as a mosaic. Seldom has a musician presented himself so differently in style. The common denominator is Mark's wizardry on the keys.



Buy the album in all stores

Album Information

Title: I Forgot to Remember to Forget
Artist: Mark Adams
Year: 2018
Genre: Smooth Jazz
Label: Mark Adams


Tracks:

1 Woke 4:03
2 Fight the Good Fight 3:42
3 I Forgot to Remember to Forget 3:19
4 Hindsight 4:42
5 Latin Mi 4:21
6 Blues for DP 9:35
7 Check Your Soul 4:04
8 What You Want 4:51
9 Marleigh 4:10
10 Silent Cry 4:18
11 Here We Go Again 4:28
12 In Your Own Sweet Way 3:19


Further reviews:

Ascetism

Conversations