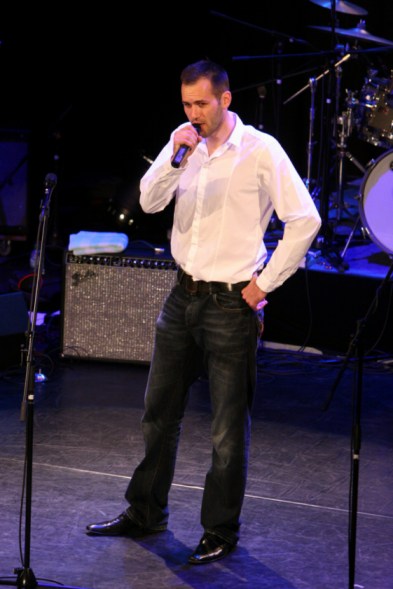 Promoter and event manager Christian Bößner has fulfilled his lifelong dream. If he wants to hear and see a great musician, he invites him to his Smooth Jazz Festival. His festivals in Bregenz, Munich, Austria, Mallorca and Augsburg are legend.

Musicians like Peter White, Rick Braun, Brian Simpson, Nick Colionne, Dave Koz, Jessy J, Paul Brown, Rocco Ventrella, Jonathan Fritzén, Gerald Albright, Martin Ehlers Trio, David Benoit, Walter "Chepe" Blanco, John Odio, Paul "Shilts" Weimar, Chuck Loeb, Joyce Cooling, Steve Oliver, Michael Lington, Club des Belugas, Marcus Johnson, Richard Elliot, Gabin, Chieli Minucci, Alex Bugnon, Marion Meadows, De Phazz, Praful, Pat Appleton, Jaared, Candy Dulfer, Eric Darius, Jeff Lorber, Marc Antoine, Warren Hill, UNÉ and Adani & Wolf followed his invitation.

His events are varied. He surprises the audience constantly with new programs. As he always opens up new places and venues, it is also not boring for the audience concerning this aspect. But apparently is his hometown Augsburg the constant in his career as promoter. Thus, the Smooth Jazz Festival in Augsburg is meanwhile tradition and institution. Evidently provides the Kurhaus Göggingen all the elements for a successful festival.

Musical backbone of this festival was like last year a German band comprised of keyboardist Lutz Deterra, bassist Günter Asbeck, drummer Andy Pilger and guitarist Martin Feske. They bring in their professionalism to the success of the festival.

In addition, a solid fan base has been established, enjoying music and amusement. Well, so brought the Smooth Jazz Festival 2012 lots of fun and entertainment.

Opener of the Friday night was singer John Stoddart. John has partnered with saxophonist Kirk Whalum as co-producer, arranger and/or musician on several of Kirk's Grammy-nominated recordings. John started his own production company, Urban Junction East Music, in 1992. He also performed with Celine Dione, Al Jareau, Take 6, Boney James, Will Downing, David Dyson, Euge Groove, Patti Austin, Bob James, Norman Brown, Dave Koz and Al Williams to name a few.
But he as well follows his own solo career as singer, artist and songwriter on albums like Love So Real (1998), Wings to Walk This Road (2003), Sweet (2006), Faces (2008), and Faith Hope Love (2010).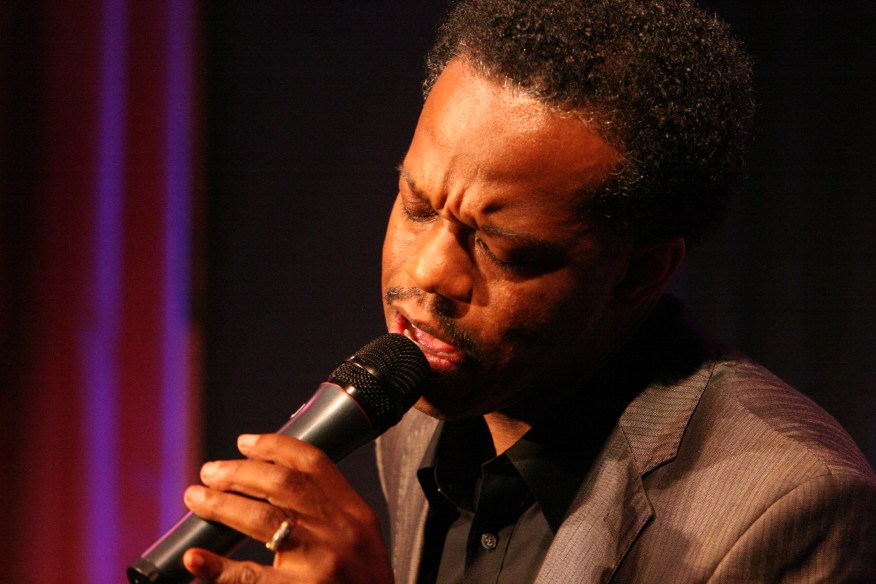 John started his show with the song Angel from his album Wings to Walk This Road, a cheerful ballad dedicated to his wife Dr. Helen Powell-Stoddart, have been happily married for over 12 years. Next in row was the song Anything from the same album. Somewhat similar to Luther Vandross, this vocalist knows to spellbind his audience.
With Anytime You Need A Friend and Ooh Child he completed the collection from this album. Ooh Child was written by Stan Vincent and one of the big hits of the group the Five Stairsteps in 1970. This often covered song is very popular till today.
After this he presented Love So Real, the title song of his debut album. "Christian Life Music", can be the description by Stoddart. Bill Wither's song Lovely day is certainly one of the repertoire of every smooth jazz musician. Because this captivating song surely enthuse every listener. John was perfectly supported by Kirk Whalum on sax.
Stoddart continued the show with More Than You And Me , Put Love, Love, Love In It, and You Are from his album Faith Hope Love. Enough songs to gain a new fan community.

Kirk Whalum is since decades one of the leading saxophonists in gospel music and smooth jazz. With his friendly attitude and his expressive benevolence he permanently conquered the hearts of his audience. Kirk is like Grover Washington Jr. a legend, the shining light of music. He is a wanderer between two worlds. An in-demand artist in the smooth jazz scene he performed with Peter White, Rick Braun, Jonathan Butler, Gerald Albright and many more. Albums like For You (1998), Unconditional (2000), Kirk Whalum Performs the Babyface Songbook (2005), and Roundtrip (2007) received high acclaims and great acceptance by the listeners.

But his real passion is Gospel music and the worship to God. His Gospel hours are truly impressing and inspirational. He started his first Gospel project in 1998 with The Gospel According to Jazz, Chapter One. His sophomore project in this genre was Hymns in the Garden (2000), followed by The Gospel According to Jazz, Chapter II (2002) and The Gospel According to Jazz, Chapter III (2010).
His newest album Romance Language was released on February 14, 2012. This is a tribute to saxophonist John Coltrane and singer Johnny Hartman and their same titled album.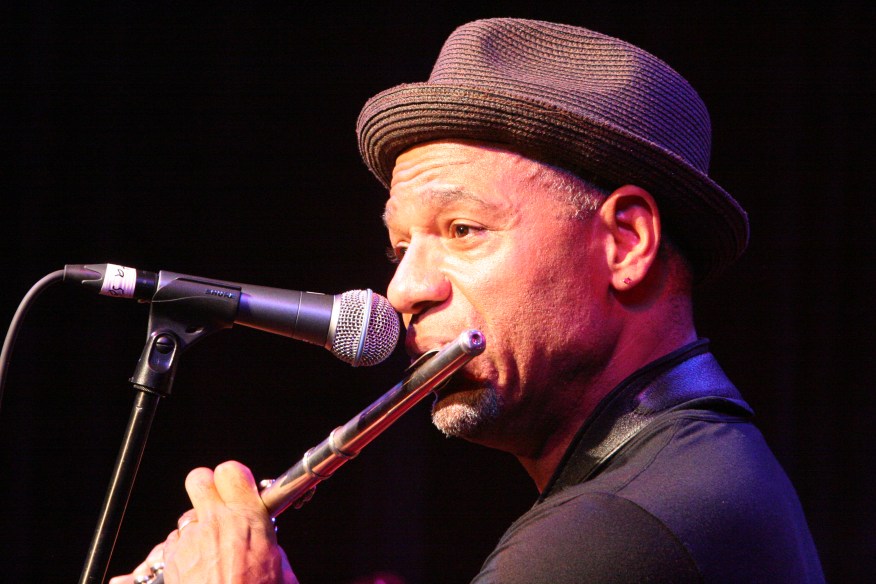 Kirk started his show with Big Ol' Shoes from the album Roundtrip. Like many other saxophonist he has the outmost respect for the late Grover Washington Jr. and dedicated the song to this legend. "Grover was that kind of person. He loved people and enjoyed what he did. So many people make this business about the industry, fame and fortune, but he was all about playing his instrument. Every time any of us make a record, Grover's spirit is there, pointing towards the future of R&B, funk and hip-hop with one hand, and holding up the straight-ahead jazz banner with the other."
Remarkable was also the Latin tinged song Valdez In The Country from the album Everything Is Everything showing Whalum in best form. This song is particularly challenging for guitarists, Jeff Golub played the guitar on the album and also guitarist Martin Feske mastered his part perfectly. Drummer Andy Pilger pushed the Bossa Nova with a fast paced rhythm.
Next song was Do You Feel Me from his album Into My Soul (2003), with which he encouraged the audience to sing along. I deeply missed Kevin's vocal prowess and his interaction with Kirk on sax. With Autumn Serenade from the album Romance Language Kirk paid tribute to John Coltrane. A romantic mixture of Latin music and jazz.
The R&B-fueled Ascension from the album For You had the audience in dancing mood. On I Wanna Know he showcased his skills on flute. The intro motif cites Minnie Riperton's hit, Lovin' You. Do you know that he already played the song on Brian Culbertson's album Nice And Slow (2001)? Another popular hit is Stevie Wonder's All I Do. Kirk did a wonderful remake taken from his album For You.
I Will Always Love You from the movie Bodyguard was one of Whitney Houston's song we will never forget. Kirk narrated about his work with this great singer and presented the song in a cordial version. It filled one with great gratitude to see this outstanding artist performing.

Final act on Friday night was saxophonist Eric Darius. He already performed on the Smooth Jazz Festival Mallorca 2012, where I had the pleasure to attend the shows and to interview this young lion. This artist is steadily in movement. Not easy to catch a photo without fuzziness. Although Eric Darius counts artists like John Coltrane, Cannonball Adderly, and Charlie Parker to his idols, he is mainly influenced by Grover Washington, Jr. and Kirk Whalum. Summarized said, he is "Mr. Smooth Breeze".
Eric's debut album Cruisin was released in 2000. Better known are his follow-ups Night On The Town (2004), Just Getting Started (2006), Goin' All Out (2008) and On A Mission (2010). When you consider the pace at which he released his records, you could actually expect a new album this year. However, he is in the meantime a well-booked musician, so we probably cannot await a new album in 2012.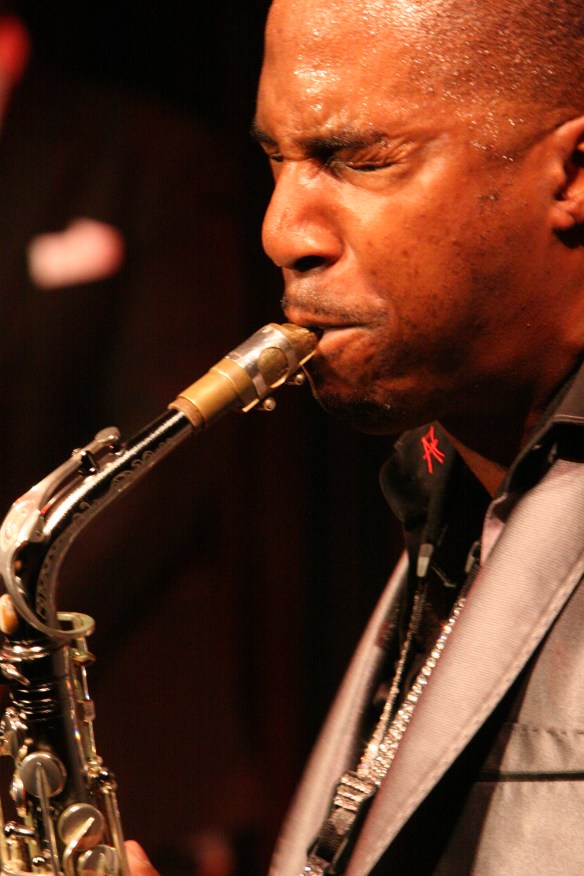 Darius introduced into his show with the song Butterfly from his latest album On A Mission. Butterfly was the opening track on Herbie Hancock's 1974's landmark CD Thrust. Eric shows his skills on the path of Bennie Maupin. A jazzy homage to his mentor Kirk Whalum and his burning love for jazz. While on the album Rick Braun played the trumpet part, we had the pleasure to enjoy Joey Sommerville's virtuosity.
The tune Goin' All Out was the title track of Eric's fourth album. In 2008 he made his Blue Note label debut. Incorporating styles like hip hop and R&B was his impetus especially to enthuse the younger audience for the smooth jazz genre. From his Narada album Just Getting Started he presented the romantic song If I Ain't Got You. He used this crowd pleaser to walk around in the audience like most of the artists did.
Just For The Moment, another track from the album Goin' All Out, warmed the romantic side of the present women. With the reggae tune Kingston Flavour, Darius revealed his heritage. His parents are from Jamaica and Haiti.
Eric also performed the title song of his debut album Night On The Town. appreciated by critics and fans alike. He closed his show with the songs Settin It Off, Eric's invitation to his glittering party and Slick, a real burner. The audience, which had enthusiastically followed the show until midnight, said goodbye with a frenetic applause.

This year the festival was only for two days, but every day was offered three artists instead of two. Starter of the Saturday evening was trumpet player Joey Sommerville, who performed on trumpet, flugelhorn and also on keyboards. Joey Sommerville commands the stage with his imposing appearance and the clear sound of his trumpet. His motto: " If you aren't touching the listener's soul, then you aren't really playing music. Soul communication is the key."

He started his solo career with the debut album Ride To This (2002), a 14 song collection of cutting-edge, progressive instrumental R&B and smooth jazz. His sophomore album was Like You Mean It (2008), an iconic tour de force and not available anymore. Last year he showed up with his third project, the Getdown Club.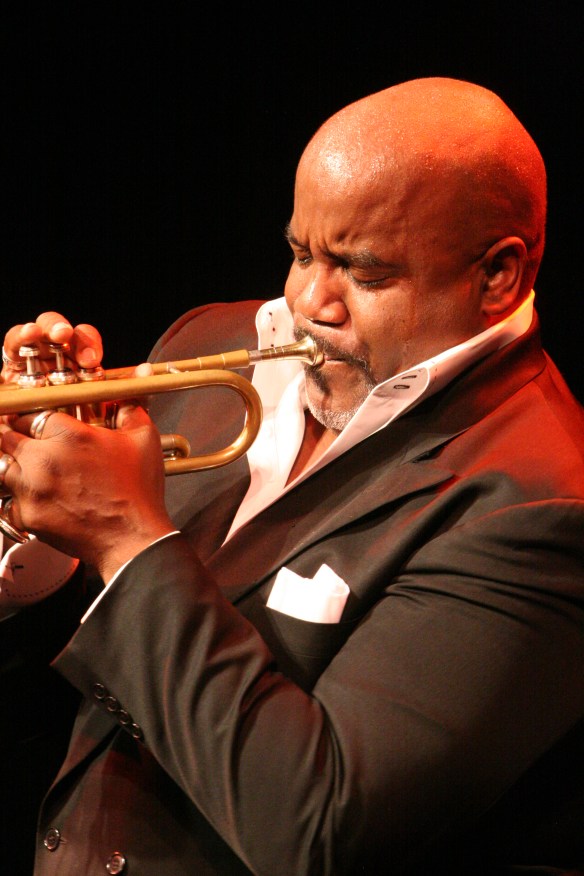 Joey has a special affinity for weddings, because he quoted in the beginning of his show "Something new, old, borrowed and blue" to describe his program. He presented as first song Your Belong To Me from his album Ride To This (2002), impressing with his high-class performance.
As second tune of this album he played Moonshadows. Before the start of the song, he described with picturesque words the mood when the moonlight reflects on a lake surface. Feeling full, he then launched into the song with an intro on his keyboard. After that he took over the romantic theme on flugelhorn to lead the song with mighty blow to a highlight.
School Boy Crush from the album Like You Mean It, a cover originally by the Average White Band, and the Latin-flavored Like You Mean It were the follow-ups. In There and Ride To This were further songs of his debut album. Finally he showcased a song of his newest album called Swag. Very electrifying. Joey does not need to hide behind Herb Alpert. With the final song he gave evidence that he is able to play the finest blues.

Subsequent artist was the guitarist Nils. The fact that Nils was born in Munich, Germany, is based more on a pure coincidence. Long ago he has made his own American way of life. His music is full of inspirations for his American musical colleagues. Highlights of his solo career are the smooth jazz albums Pacific Coast Highway (2005), Ready To Play (2007) and Up Close And Personal (2009). Just in time on September he released his brand-new album City Groove.
Is it a little wonder that Nils became so popular? No, it's his unique and signature West-Coast guitar sound and his dynamic presence producing a well-seen musician on every big festival.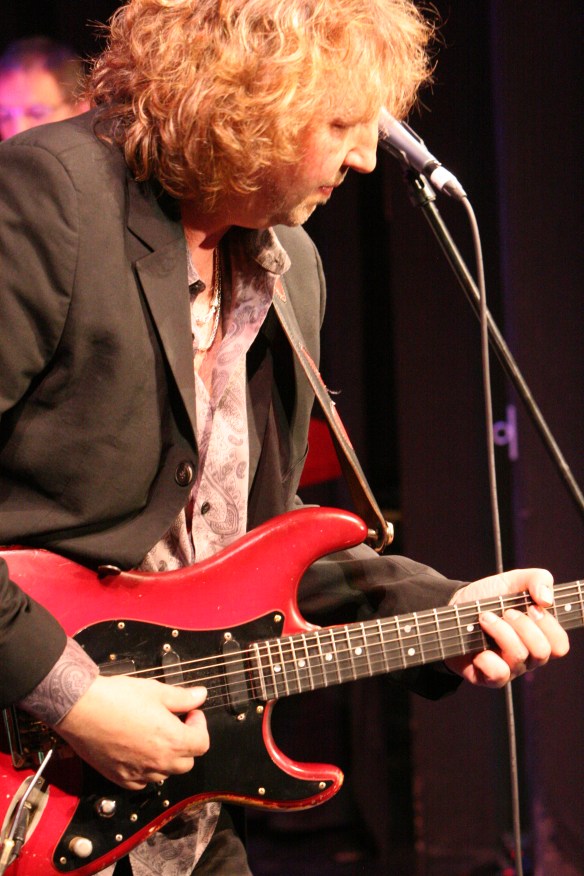 Nils began his show with Georgy Porgy, a cover song written by David Paich, a member of the group Toto. A classic dance mix renewed by Nils' magic guitar. Next was What the Funk. What The Funk? is the question and the title of his album, which was released in 2010. Nils blended elements of techno beat, funk and smooth jazz to a shimmering song.
Very popular is also his song Summer Nights from the album Pacific Coast Highway. The guitar sound was unbeatable flattering when he turned on the reverb. My favorite was Cat Nap from the album Ready To Play. Although laid-back performed the infectious melody creeps into your brain and is hooking. This is quality stuff like Rick Braun's Notorious.
Nils also played the title song of his new album City Groove. Nils' earth bounded guitar loops showed at the thrilled audience their effect. With Let's Bounce he made a major step to his performance style, which dominated his live appearance onstage.
As encore Nils performed Santana's legendary Europa, which Nils released on his album Up Close And Personal. There was still the same old magic like in Woodstock.

Final highlight of the Saturday night was the Japanese pianist Keiko Matsui. Petite in stature she grows as an artist. Tokyo born Keiko Matsui devotes her life to her favorite instrument, the piano. Since her fifth birthday she loves and performs this piece of equipment. Classified as New Age or Smooth Jazz musician, she always expands her work to other genres. Blending Eastern and Western influences she has found her own style presented in numerous solo albums.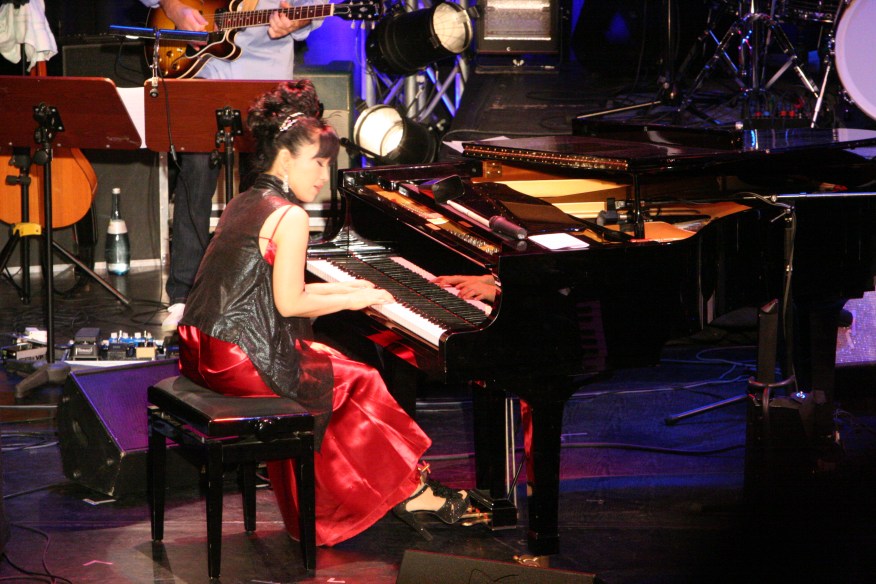 She opened her show with the tune White Gate from her album White Owl, in 2002. An irresistible mix of acoustic flamenco guitar and piano. Next she played the title song of her newest album, The Road (2011)showcasing her expressive piano wizardry. On the original recording she was accompanied by saxophonist Jaquiem Joyner, the German sax player performed equally well.

On the song Safari from her album Sapphire (1996) she played on her Yamaha KX and took a short walk through the audience. Next song was Light Above The Trees from the album A Drop Of Water (2003), followed by the title song of the album Doll (1994) and the uplifting Bridge Over The Stars from the album Dream Walk (2003).

When Keiko composed Bohemian Concerto she wanted to title the song Bohemian Rhapsody, but the official of the label insisted on another title, told Keiko winking. Bohemian Concerto is inspired by an Eastern European tour Keiko absolved in October 2010. Although the tour went through Ukraine, Russia, and Azerbaijan the music borrows from Balkanized elements and some Gypsy savor.

Next in line was Affirmation from the album The Road. An attentive listener will remark that Keiko's interpretation is influenced by Bob James' piano style. Both have often performed together on the 4 Hand tour. Also remarkable was the contemplative Awakening. Keiko was offering her music as a prayer sharing the saxophonist's attitude about music and spirituality.

Most of the audience agreed that Keiko was the culmination of the festival. Christian Bößner has proved with the selection of artists a lucky hand. One can rightly congratulate him on the successful festival that next year will be held at the same place.