The third Annual German Smooth Jazz Festival took place in the Kurhaus Göggingen in Augsburg. A venue of timeless beauty build in the years of rapid industrial expansion in Germany. It is the work of famous architect Jean Keller, who constructed the building in 1886. The dreamy impression of this building is captured in the title photo, which was made last year by Andreas Lutz (Fotostudio Xanderhof).

Augsburg is the home town of Christian Bößner, who promoted this event for the third time. He already announced that the next festival in 2011 will be again in the same location. Those who are interested to know more about the ambiance I recommend to look at the numerous photos, which are published by friends of this event on Facebook.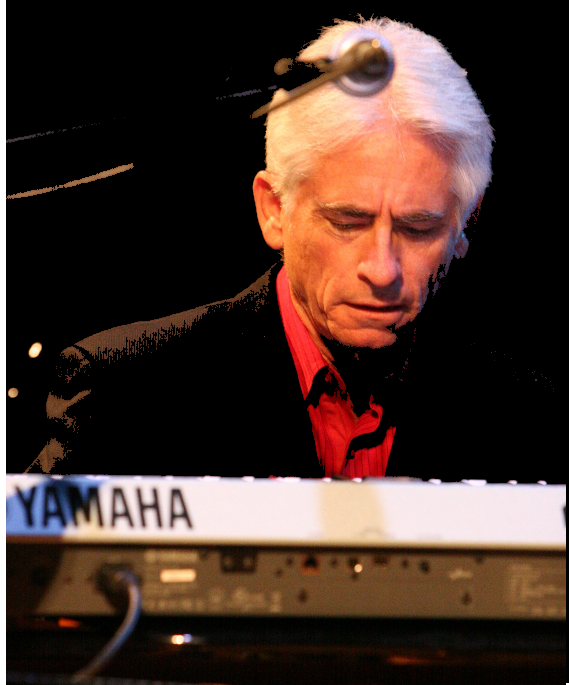 The festival was opened by piano wizard David Benoit, who pleased the audience with several songs of his new album Earthglow. David Benoit is like Dave Grusin one of the big names of contemporary jazz. Always looking after new sides of music, he created with Earthglow anew gripping melodies with addictive potential. From his great repertoire we listened to Kei's Song, Letter To Heaven, Blue Rondo a la Turque and Freedom at Midnight. The latest mentioned song is now often played on his tours. Originally recorded for his same-titled album (1990), the reaction on all his concert was so overwhelming, that he decided to re-release the popular song and mix it with musical quotations of Beethoven's Moonlight Sonata.
But foremost David Benoit is known by his Peanuts TV specials for over 20 years. In 2008 he released Jazz For Peanuts - Charlie Brown TV Themes. Under great applause he performed Linus and Lucy from this album. Later Rick Braun joined David Benoit playing his immaculate trumpet. Braun, who played on Benoit's 1999 Professional Dreamer, also produced Benoit's album Fuzzy Logic and also accompanied him on his album Earthglow.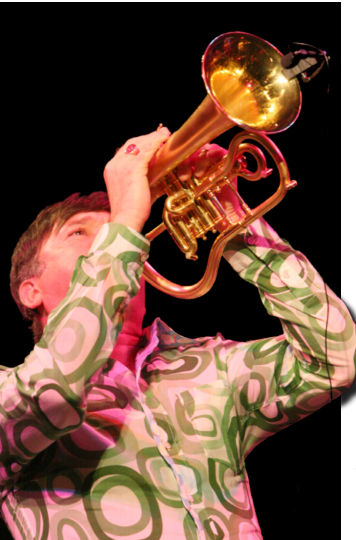 Second top act on Friday was star trumpet player Rick Braun, who pleased the audience with his standards like Hollywood and Vine, Notorious, Better Times, Grazing in the Grass and Tijuana Dance. Often Rick honors with cover songs other trumpet player like Hugh Masekela, who composed the mega hit Grazing in the Grass. Tijuana Dance is Rick's tribute to the stellar trumpet player Herb Alpert, he adores since his youth. While in 2009 Rick performed the song with Richard Elliot, he played on this festival with saxophonist Paul "Shilts" Weimar.
Rick is married with the German born Christiane Braun, who has taught him German so perfectly, that he was able to flawlessly make his announcements and jokes in this language.
Finally Rick Braun showcased his skills as jazz trumpet player with a rendition of the jazz standard My Funny Valentine, a show tune from the 1930's written by the legendary team of Rodgers and Hart. David Benoit joined him on piano and as surprising special guest Chuck Loeb on guitar. Rick never recorded this tune, but was a sideman on Paul Brown's album Up Front, who published that song.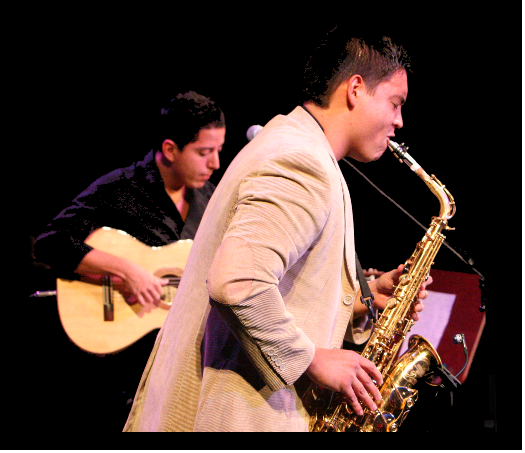 Walter "Chepe" Blanco on guitar and John Odio on saxophone are Akusticos. A duo from Costa Rica opened the festival on Saturday. Their fresh smooth jazz performance received great applause of the audience and all listeners trust in the splendid future of these young musicians. Their debut album is entitled Lluvia and was released this year by Print Sound UG, a German label.
This duo performs a blend of Contemporary and Latin jazz standing to the tradition and heritage of their country.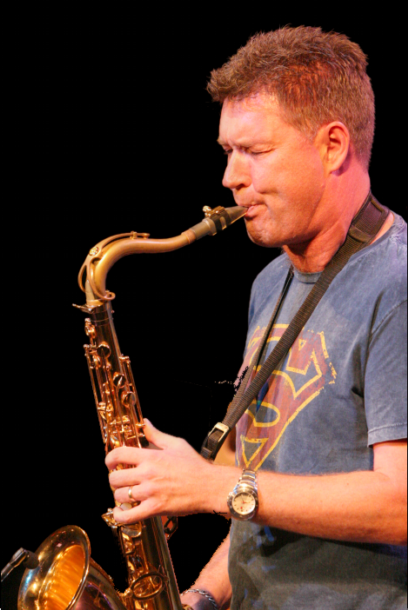 Former Down To The Bone front man Paul "Shilts" Weimar was the headliner of the Saturday evening. He was joking about the titles of his songs. He started the show with the song See What Happens from his Smooth Jazz awarded debut album (2000). The next song was Look What's Happened from his album Headboppin' (2006). Shilts reflected about the title of his next album, perhaps What Will Happen then? Another tune of this album was Good Evans, a tribute to one of Shilts' idols, the late sax player Bill Evans. Shilts shined with fancy fingers and precise blows.
Next in line was the song Back On The Hudson from his album Jigsaw Life (2008). From his new album Going Underground (2010) he just performed the song Lambeth Strut. During the meet and greet after his show he offered the first copies of his new album and I had the opportunity to get one. You find my review about this album here. Also on his playlist was the song Tuesday Heartbreak from Headboppin'.
Shilts presented a grandiose finish with a mix of Down To The Bone songs like Staten Island Groove and Brooklyn Heights heating up the audience with the support of star trumpet player Rick Braun.


Second highlight of the Saturday show was guitar hero Chuck Loeb, whose music I dearly love. My personal favorite is Pineapple Getaway from Fourplay's new album Let's Touch The Sky. I follow his music since his DMP time and also observed some of his excursions like Metro. His joining together with Fourplay was for me like an early Christmas.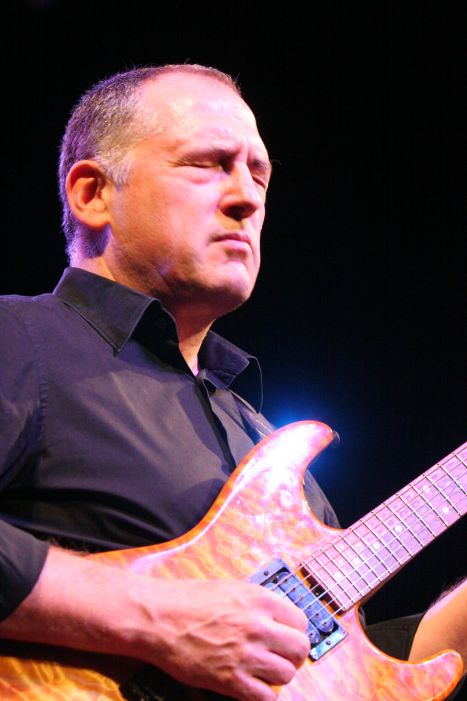 This man takes his guitar performance serious. He plays his songs with full concentration. Chuck started his show with Hiram from his album Between Two Worlds. This is a tribute to the late Hiram Bullock, a song full of emotional sadness. Next song was Just Us from his album The Moon, The Stars and the Setting Sun (1998). This song is also to find on Shanachie's collection Smooth Jazz Radio Hits! (2009).

The up-tempo Let's Go (Between Two Worlds) perfectly showed Chuck's guitar mastery. The song has a superb difficulty in the middle part. The Music Inside from his Shanachie debut in 1996 had memorable moments and shined in beauty. Brother Ray from his album When I am With You (2005) shows the jazzy attitude of this guitar genius. Chuck wrote this song in memory of the great Ray Charles. Rick Braun and Shilts joined Chuck onstage and gave the song the necessary brass background. A great jam enthusing the audience for another encore.
This encore was Mercy, Mercy, Mercy. September 11th 2007 we lost legendary keyboardist Joe Zawinul, who wrote this tune for Cannonball Adderley. This tune enriches the whole jazz world and was the final highlight of Chuck's concert. The melancholy fade-out was Chet Baker's Body and Soul. Rick Braun recorded this song for his same-titled album in 1997.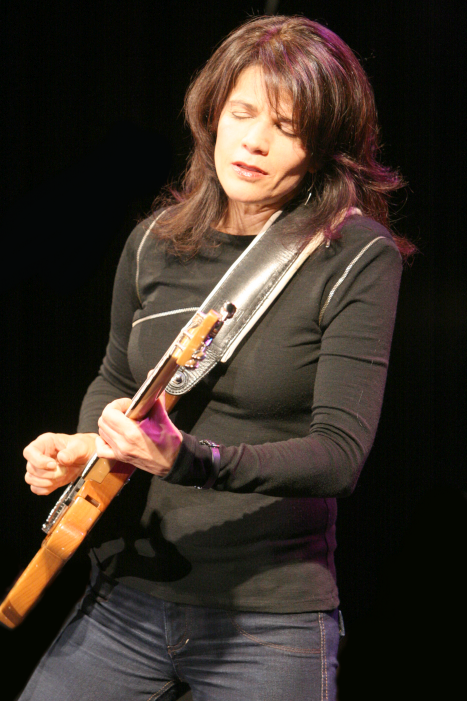 After two rainy nights we experienced a sunny Sunday morning and a venue bathed in light. It was the day of Joyce Cooling, who honored the festival with her performance accompanied by keyboardist Jay Wagner and drummer Celso Alberti.
Joyce graced the last day of the festival with songs of her new album Global Cooling (2009). Hooking melodies and lyrics are Joyce's great potential and talent. What Are We Waiting For? is a brilliant example of her blessed gift in the style of Joni Mitchell.
She also played her great hit Revolving Door seeking the nearness to the audience. Unlike the previous artists she took seat at the edge of the stage to create an intimate atmosphere. The only female act of this festival was rewarded by promoter Christian Bößner with a big bouquet of flowers.
Christian Bößner assured that a new festival will take place again in the same venue next year. Many of the attendees are regular visitors of the festival, coming from all over Europe and even the States. The festival was well attended, so it was a complete success.