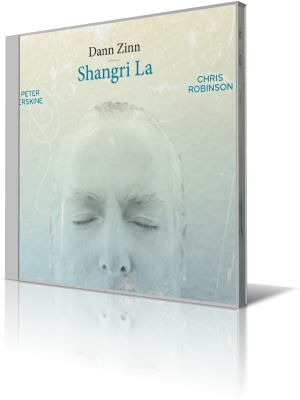 Trios aren't supposed to sound like ensembles. Perhaps Dann Zinn didn't get that memo.
Shangri La
(2014) only has three musicians, each playing multiple instruments, coming together with a sound bigger than the size of the group implies.
Zinn plays tenor saxophone, processed sax and wood flute. With him are Peter Erskine, drums, hand drums, tambourine and shakers; and Chris Robinson, guitar, baritone guitar, guitar loops and ukulele.
"Daydreams" lulls you into a false sense of restfulness with its tranquil opening. Then, like a brick crashing through a window, it startles you awake. Erkine's hand drumming and Robinson's soft rhythm guitar set the mood. The rich tenor comes in to move the dream forward. Then, just when you start to figure out what's going on, comes the crash. The music shift gears into something powerful and electric. Erskine picks up the sticks and puts his kit through a workout. Robinson cranks up his guitar a notch. And Zinn gets busy. After his run, he steps aside. Robinson takes point while Erskine tears it up in the background. When Zinn returns, the trio blasts off for an intense climax.
The title song is a vision of tranquility. With the constant drone of a four-note bass pattern underneath, the playing is subtle. The guitar moans from time to time but mostly offers an ethereal presence. Zinn's tenor is hypnotic.
Zinn composed eight of the 11 tracks. He also arranged a cover of Green Day's "Good Riddance (Time of Your Life)," and classical pieces by Brahms and Puccini. As a whole the music of
Shangri La
can be described as modern fusion. It has elements of rock, classical and improvisation.
Zinn entered the Bay Area scene as a teenager. After working and studying in Los Angeles and in Aspen, Colorado, he moved to New York. Among his career associations are Joe Henderson, Russell Ferrante, Jeff Tain Watts, Freddie Hubbard, Chuck Findley, Mary Wells, Martha Reeves and the Vandellas, Eddie Daniels and Ernie Watts. He currently resides in Oakland, California, where he has several teaching gigs: director of Jazz Studies at California State University at East Bay, director of the San Francisco Jazz Festival High School All-Star Combo, faculty member at the University of California at Berkeley, the Jazz School in Berkeley, Chabot College, and he has taught at the Brubeck Institute.