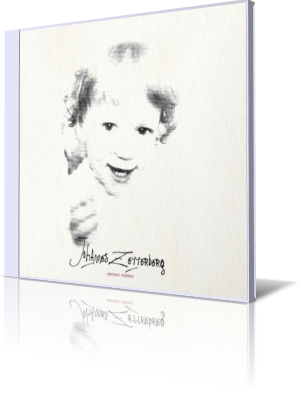 I normally don't begin a review with anything negative. The idea is to sell a recording, not make people flee from it. However, I must say that Johannes Zetterberg's Painter's Portrait (Innate Grove Records, 2011) has one annoying element. The combination of small print, red lettering and black background makes it difficult, if not impossible, to read who's doing what on the odd-numbered tracks.

That's only a problem because I'm a liner notes geek. When I hear something interesting in the background or a cool solo, I want to know who did it. The font used for the song titles isn't much better, but at least with black letters on white, or vice-versa, it's less of a challenge.

Reading issues aside, Zetterberg's composing and performance are impressive. From prologue, "Ghost of a Second," to epilogue, "The Coming Storm," the 25-year-old from Stockholm, Sweden, follows his highly acclaimed debut, Luna Nueva, with more excellence.

The title song features Zetterberg on fretless bass, keyboards and programming. Yellowjackets member Bob Mintzer plays soprano sax. The ethereal opening is countered by the twanging style of the bass once Zetterberg takes over. Aron Mellergardh injects a broken-time pace on the drums.

The funky "Rope Walk" follows, with Brandon Fields on alto saxophone. A three-piece horn section adds depth. Contributions by Mellergardh, percussionist Andreas Ekstedt and guitarist Eric Linder make this a well-rounded piece. But the focus is mainly on Fields and Zetterberg, the latter using the bass mostly as a rhythm instrument, but also putting the keyboard out front.

Another dynamic piece is "Beyond Borders." Ekstedt throws in some timbales for a Latin vibe. The horn section punches in with vigor. Jens Flippson plays alto and baritone saxes with the section, and delivers a cruising flute lead. Steiner Aadnekvam follows with the acoustic, nylon-string guitar. Linder adds some electric guitar fills toward the end.

Zetterberg grew up in a musical family, exposed to a variety of music at an early age. He began playing bass at the age of 12 and later attended Sodra Latins Gymnasiu's music program.

Luna Nueva was a superb release, but Zetterberg found the five-year process frustrating, and he feels that he stayed too much within the pocket. Painter's Portrait is more satisfying. Now that he's established, he is freer to explore different styles, and he accomplishes that here, touching on smooth jazz, funk, fusion and Latin, as well as incorporating other sounds.