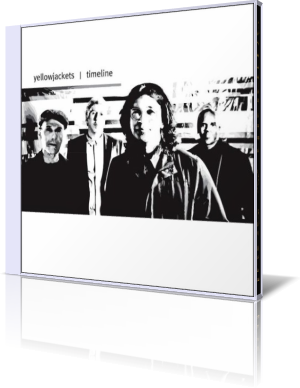 When a favorite band goes more than a year without a recording, fans get anxious. And when a new release is finally available, there's joy.

Listeners in the world of the Yellowjackets are rejoicing with the release of Timeline (Mack Avenue, 2011), their first since Lifecycle (Heads Up, 2008). And to no one's surprise, the group is in top form.

The ensemble began as the Robben Ford Group, led by guitarist Robben Ford, and featuring bassist Jimmy Haslip and pianist/keyboardist Russell Ferrante. However, the group's preference of instrumental music over pop vocals ultimately led to the birth of the Yellowjackets. Over the ensuing years, there have been many personnel changes. Haslip and Ferrante remain, with Bob Mintzer being the group's saxophonist since 1990.

Timeline not only celebrates the group's 30 years but also welcomes the return of drummer Will Kennedy. Ford appears on one track.

"Why Is It" opens the set. Mintzer fronts this piece, playing the tenor sax and bass clarinet. The pace is upbeat, making it suitable for head bopping, toe tapping or dancing. Haslip and Mintzer sync up, playing a tutti during one sequence. Kennedy eases back into the drummer's seat, as if he'd never been gone, deftly supporting the leads and enjoying a brief solo.

"Like Elvin" is a moderate groove that features guest trumpeter John Daversa. Trumpet and sax blend beautifully on the lead – a combination seldom heard on a Yellowjackets recording. Each member gets a moment to step out front while the others keep the happy-go-lucky feeling. The track ends with a spirited sequence by the horns.

One of the things that make the Yellowjackets unique is their determination to avoid getting caught up in market trends. While that has left them, on occasion, without a recording contract, it has enabled them to remain true to what they're about. And that's making cool music that's a mix of jazz, blues, soul and even classical, but without commercial gimmicks that can bind music to a particular year or decade.

And for those who enjoy liner notes, Timeline includes a chronology of the Yellowjackets' evolution, listing significant milestones in their development as well as documenting all their releases as a group.