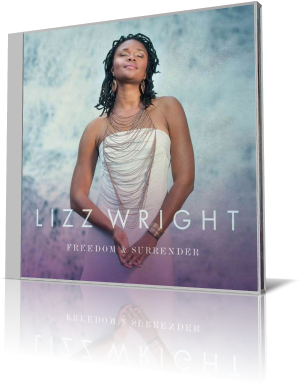 It's a tried and true formula. Superb vocal skills, songwriting and top-level musicians make for a listening treasure. Lizz Wright makes her Concord Records debut with Freedom & Surrender.

Musicians in this set include drummer Vinnie Colaiuta; bassist Dan Lutz; percussionist Pete Korpela; guitarists Dean Parks and Jesse Harris; and keyboardists Kenny Banks, Pete Kuzma and Billy Childs.

The first part of the album title, "Freedom," is a soulful groove accented by a slick bass line and rhythm guitar, with stellar drum and keyboard play. Wright sings of freedom to have air to breathe and to walk the ground beneath one's feet. It also is an anthem about answering the call, and standing up for others.

After the mellow, laid-back "The Game," Wright gets funky and a bit bluesy with "The New Game." The song is like a composite of Staples Singers and Tracy Chapman.

Wright's voice takes on an earthy quality on the slow, haunting ballad, "River Man." One can visualize this being sung in a misty, foggy environment, with the vapors swirling about Wright, parting just enough to see her facial expressions as she emotes. One of the beauty points is when Wright sings a wordless chant to accompany the trumpet during the fade.

Wright came to prominence as a guest on George Duke's 2002 release, The Pecan Tree (Verve). The following year, she released her debut, Salt (Verve). Born in Hahira, Georgia, Wright is a preacher's daughter who sang during church services. Over the years, she has performed gospel, jazz, folk, pop and blues. She appeared as a guest on Terri Lyne Carrington's Mosaic Project: Love and Soul (Concord Records, 2015).