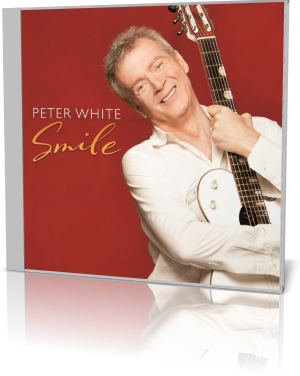 A glance at the track list and running times for Peter White's
Smile
(Heads Up, 2014), one might go, "Oh, no. Cookie-cutter music." The songs are short, hovering around that magical four-minute mark that makes all tracks acceptable for radio programmers who have the attention span of a gnat. However, it's what White does in those four minutes that keeps this from being a typical, ho-hum, smooth jazz release.
White plays nylon-string, acoustic guitar and is joined throughout by co-producer DC. Together, they handle all instruments not specified by any of the nine guest artists who appear here and there.
One can't help but smile with the title song. It opens the set with a delightful groove. Mindi Abair and Stevo Theard join with lead vocals. Rick Braun steps in with funky horn and flugelhorn solo. The lyrics are simple: "I just like the way you do it / smile / I love the way you do it / smile." But it's the overall vibe of the song that makes it work.
"Head Over Heels" is another happy-go-lucky piece that might inspire you to get on the dance floor. Braun is on this track as well. Philippe Saisse handles several instruments: keyboards, piano, synthesizer and orchestra programming. With solid rhythm play, Braun and the orchestral sounds providing timely fills, White stretches out. He packs a lot into this one, the album's longest track at 5:13. Toward the end, White and Braun engage in a playful call and response. The title may suggest a romantic entanglement but the mood is one of celebration.
"Don Quixote's Final Quest" may be the best track in the set. With Ramon Yslas on percussion and bongos, and Charlotte White on violin, this song has the flare of a romantic adventure, matched with conventional Spanish sounds. It would be an ideal soundtrack to a theatrical presentation of Quitxote's exploits.
White burst onto the scene in the 1970s with rock star Al Stewart ("Time Passages," "Year of the Cat"). In the '80s, he worked a lot with Basia and has enjoyed session work with Richard Elliot, Jeff Golub, Lee Ritenour, Kirk Whalum and Boney James, among others.
Smile
is his 14th recording as a leader and third for Concord Music Group that has all original songs. White was born in 1954 in Luton and raised in Letchworth. Both are suburbs of London. He played clarinet, trombone, violin and piano before choosing electric guitar. After his work with Stewart, White moved to Los Angeles and formed the band, Shot in the Dark. His brother, Danny White, was a founding member of the pop group, Matt Bianco, which included singer Basia. When she went solo, the White brothers joined her for her debut,
Time and Tide
and follow-up,
London, Warsaw, New York
.
Others who contribute to
Smile
are saxophonist Euge Groove, bassist Nate Phillips.