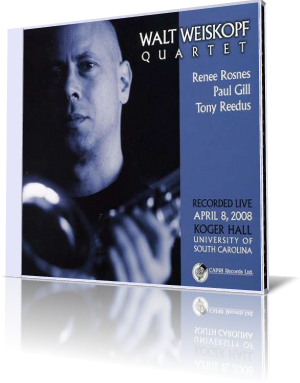 Straight jazz with no chaser. That's the recipe for the Walt Weiskopf Quartet Live (Capri Records, 2011). The saxophonist, composer and arranger has more than 15 recordings as a leader and numerous efforts as a sideman, but this is his first live set.

Recorded in 2008 at the University of South Carolina's Koger Hall, Live features Weiskopf on the tenor, accompanied by pianist Renee Rosnes, bassist Paul Gill and drummer Tony Reedus. The concert was on the final night of the bi-annual North American Saxophone Alliance convention and was originally recorded for archival purposes. However, after learning that Reedus had died, Weiskopf decided to release the music in the drummer's honor.

"Man of Many Colors" is one of five original songs in the set. It showcases Weiskopf's expertise as a leader and composer. Rosnes stretches out during the middle solo, with plenty of involvement from Gill and Reedus.

Rosnes opens "Dizzy Spells/Jay-Walking" with a solo piano effort that's part jazz, part classical. After the introduction of this Rosnes/Weiskopf composition, Reedus cranks up the heat and brings in the rest of the ensemble.

Weiskopf is a graduate of the Eastman School of Music. He began his New York career at the age of 21, performing with the Buddy Rich Big Band in 1981. More recently, he has performed with the Donald Fagen Band, toured with Fagen, Boz Scaggs and Michael McDonald, and was scheduled to spend six months on the road with Steely Dan.

Listening to Live is like being there. All tracks are of sufficient length to capture the spirit and allow for plenty of improvisation, as well as group interaction.