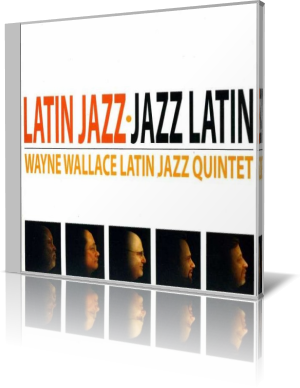 Horns, percussion and danceable rhythms are an essential combination for Latin jazz. Add to that stellar performances from all players, including guest musicians, and a biographical sketch of each song, and you get
Latin Jazz – Jazz Latin
(Patois Music, 2013) by the Wayne Wallace Latin Jazz Quintet.
Wallace, a trombonist, composer and five-time Grammy nominee has been with the Bay Area music scene since the 1970s. Instead of the usual presence of brass, the album emphasizes flutes and violins.
The core band is comprised of Wallace; Murray Low, piano; David Belove, bass; Colin Douglas, trap drums; and Michael Spiro, percussion. Guests who appear on selected tracks are John Worley, trumpet; Masura Koga, tenor saxophone; Mary Fettig and 17-year-old Elena Pinderhughes, flute; Jeremy Cohen, Tregar Otton and Mads Tolling, violin; Pete Escovedo, timbales; John Santos, Orlando Torriente, Jesus Diaz and Mike Mixtacki, vocals.
"¡A Ti Te Gusta!" gets things moving right off the bat. Led mostly by Pinderhughes and Tolling, it's a delightful piece that highlights the effectiveness of group play. Wallace steps out at the two-minute mark, but it's mostly the band with a few, brief solo contributions by the leads, Low, Belove and Spiro.
Diaz and Mixtacki provide the vocal leads for the tightly synchopated "¡Estamos Aqui!" As explained in the liner notes, "Songo became one of the most popular Cuban Post Revolution Styles. Juan Formell (leader of Los Van Van) says that 'Songo is the synthesis of a personality, of a way of being and feeling the music, a sum of cultures and a way of making a musician into someone polyfacetic and original.'" This song builds on that tradition and is based on a rhythm created by Spiro with Paul van Wageningen (sanbrusongo), and combined with timba and Afro-Cuban folkloric music.
The core band has played with Wallace for many years, with the exception of Douglas, who replaces the late van Wageningen.
Jazz Latin – Latin Jazz
is enhanced by liner notes that offer background information on each song, and quotes from classic jazz and Latin artists, including Duke Ellington, John Coltrane, Thelonious Monk and Tito Puente.