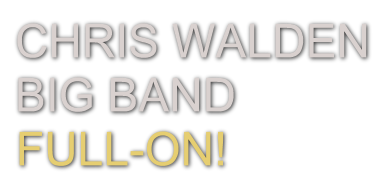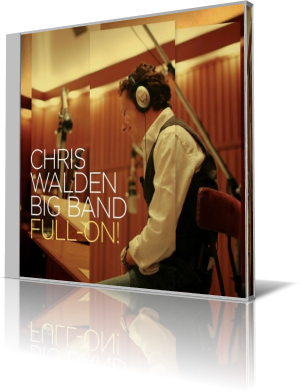 The title says it all. Full-On! (Origin Records, 2014), by the Chris Walden Big Band, is a full-on thriller for fans of this style of music.

Walden has done orchestral arrangements for mainstream pop stars like Stevie Wonder and Neil Young, as well as jazz artists such as Michael Buble and Diana Krall. When he's not doing that, he's doing this. Full-On! features six original songs, including one co-written by Walden with Courtney Fortune, and Walden's arrangements of several genre-crossing selections: pop, standards, country and jazz.

The band consists of Jeff Driskell, Bob Sheppard, Rob Lockart, Brandon Fields, Tom Peterson and (two tracks only) Kim Richmond, saxes; Wayne Bergeron, Kye Palmer, Ron King and Kevin Richardson, trumpets; Bob McChesney, Alex Iles, Paul Young, Rich Bullock and (two tracks only) Andy Martin, trombones; Mitch Holder and ("Sir Duke") Andrew Synowiec, guitars; Alan Steinberger, piano and keyboard; Kenny Wild, bass; Ray Brinker, drums; and M.B. Gordy, percussion.

The swinging starts early with Walden's "Bailout." The horns mix up well with the saxes going here, the trumpets going there and the trombones somewhere else, but with each group having full awareness and respect for what the others are doing. Steinberger and McChesney are the featured soloists. It's a bright, life-is-good piece.

Taylor sings lead on the delightful "I Can Cook." Her singing is in the company of Ella Fitzgerald and Janis Siegel. The lyrics boast of one who is highly skilled in the kitchen. Taylor's delivery is convincing not only in believing that she means what she says but also of her joy of performing this song.

Taylor comes back with the cover of Wonder's "Sir Duke." The brass comes through strongly, punctuating key lines, particularly during the chorus. The band softens during the verses but comes in loud and clear during the chorus and post-chorus breaks. During the final chorus, the horns underscore the voice, and Taylor throws in a little scat, even delivering some Fitzgeraldesque high notes.

Trumpeter Arturo Sandoval sits in on "Arturo," Walden's tribute to Sandoval. Among the other covers are Hank Williams' "Hey Good Looking," the Yellowjackets' "Out of Town" and Christopher Cross' "Ride Like the Wind."

Born in Hamburg, Germany, in 1966, Walden began playing recorder at age 5 and piano at 7. By 13, trumpet became his main instrument, and he began composing music for local high school bands at 16. Among his professional marks are scores for television movies for ABC, CBS, A&E, Hallmark Channel and SciFi (no SyFy) Channel.