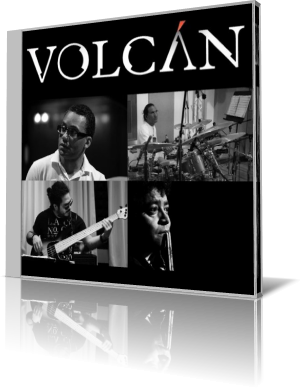 Volcan is an all-star group that is the product of years of friendship, respect and a diverse, rich, musical heritage. The four friends are Jose Armando Gola, Horacio "El Negro" Hernandez, Giovanni Hidalgo and Gonzalo Rubalcaba. Their new recording, Volcan (Passion 5 Records, 2013), embodies that camaraderie.

Gola plays fretted and fretless electric bass. Hernandez is the drummer. Hidalgo plays congas and percussion. And Rubalcaba plays acoustic and electric pianos, Kurzeil, Korg and Virus synths. Special guest Maridalia Hernandez provides the vocal on "Corsario," which also is presented as an instrumental piece. The recorded voice of Dizzy Gillespie is mixed with the group's arrangement of Gillespie's "Salt Peanuts."
After the free-spirited opening track, "Volcan," the group lays down a mellow groove with "Volcan Durmiente." Rubalcaba plays both pianos over subtle bass lines, congas and cymbal crashes. After an elegant acoustic piano lead, he switches to one of the synths briefly before coming back to the electric piano to close the song.
The group stretches out aplenty on "Sin Punto…" Each musician gets time in the spotlight, but the beauty of the piece is the engagement of those in the background during one's lead or solo.

Volcan derives its name from the volcano, which incorporates the four elements of nature: earth, air, wind and fire. The members say the volcano looms large and, at times, ominously over otherwise unremarkable landscapes, reminding them of the goals they aspire to, the ensuing journey and the value of the climb to the summit.

Gola has played bass since the age of 13. A native of Havana, Cuba, he attended the Amadeo Roldan Conservatory. He has appeared on several Grammy-nominated albums and two winners, including Arturo Sandoval's Rumba Palace. Hernandez also has Grammy experience, including Roy Hargrove's Havana and Santana's Supernatural. When he was 8, Hidalgo, from Puerto Rico, began playing a home-made conga that was crafted by his father out of a wooden barrel. Rubalcaba, also from Havana, draws inspiration from such jazz stalwarts as Thelonius Monk, Bud Powell, Oscar Peterson, Charlie Parker, Gillespie, and Art Blakey.

The songs are mostly straight jazz or fusion, accented by the unmistakable seasoning that is Latin music. Rubalcaba composed three of the eight tracks.