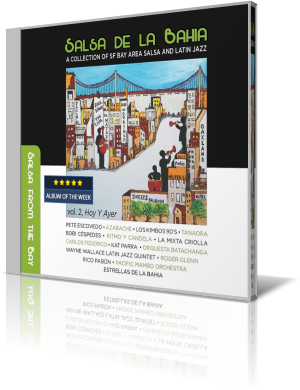 It's here. The anticipated
Salsa De La Bahia – A Collection of Bay Area Salsa and Latin Jazz, Vol. 2, Hoy Y Ayer
(Patois Records, 2014). It's the finale of the celebration of San Francisco-area Latin jazz.
The two-disc compilation features a variety of Bay Area artists who perform this style of music, in the tradition of Cal Tjader, Armando Peraza and Poncho Sanchez. While Volume 1 captured the sounds of 2000-2010, Volume 2 revisits the past, late 1980s to 1999, and the most recent, 2010-2013.
"Estamos Aqui," by the WayneWallace Latin Jazz Quintet, like all the tracks in these collections, is made for dancing. With several special guests, including Mads Tolling on violin, this song is a mix of lively vocals, requisite horn play, well-syncopated percussion and Wallace's trombone.
"Montuno Street," by Azabache is the rare track that has English lyrics. Manny Martinez sings lead. The main verses are in English but the song reverts to Spanish about two minutes in. Trombonist Ray Martinez is the featured soloist. Possibly not intentional, but there is one sequence where the horns repeat a 1 – 2, 3, 4 phrase that sounds like the melody to "Carol of the Bells." There's a lot more going on, but these are a few things immediately noticed.
"Makayla's Mambo" kicks off disc 2. The ensemble is Estrellas De La Bahia, which is basically a reconfiguration of Wallace's quintet, plus additional musicians. Featured soloists are Wallace, saxophonist Mary Fettig and pianist Murray Low. Low is accompanied only by the percussion players. When he steps aside, the horns engage in a call and response with percussion. Some tightly syncopated, stop-time phrases set up the song's ending.
Other contributing artists are Pacific Mambo Orchestra, Los Kimbos 90's, Orquesta Batachanga, Rico Pabon, Roger Glenn, Bobi Cespedes, Kat Parra, Orestes Vilato, Pete Escovedo, Carlos Federico-Smart, Ritmo Y Candela, La Mixta, Criolla and Tanaora. The subtitle of Volume 2,
Hoy Y Ayer
means "Today and Yesterday," a reference to the songs representing periods that bookend the songs on Volume 1. Both volumes of
Salsa De La Bahia
are companions to the nearly finished documentary,
The Last Mambo
, a collaboration between Wallace and Dr. Rita Hargrove, a salsa dance and Latin jazz fanatic. While Volume 1 is to serve as a soundtrack to the film, Volume 2 attempts to fill gaps that were not included in the first set. Extensive liner notes give details about the overall project, biographies of the artists and personnel listings for each song.