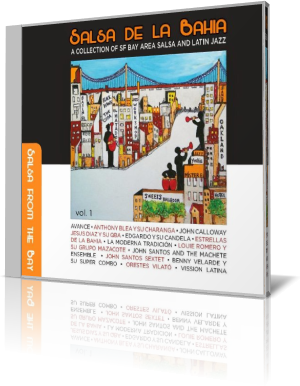 A man once told me his favorite instrumental music involved horns and percussion. While that can apply to jazz performed by a mid-size combo, it didn't occur to me in the moment that he might be referring to Latin jazz, salsa or similar styles. I can only imagine the joy in his eyes if he could hear Salsa De La Bahia Vol. 1 – A Collection of SF Bay Area Salsa and Latin Jazz (Patois Records, 2013).

This two-disc assembly of festive music features a variety of artists in a snapshot of the San Francisco area's scene, that also serves as homage to musicians and dancers "whose vision, energy and talent still resound to inspire us all," writes Wayne Wallace, head of the Patois label.

Wallace, who fronts the Wayne Wallace Latin Jazz Quintet, partnered with filmmaker Rita Hargrave. Salsa De La Bahia is a companion piece to The Last Mambo, which traces the evolution of the Bay Area's Latin music scene from Cal Tjader, Benny Velarde and the Escovedo Brothers to contemporary masters such as John Santos, Jesus Diaz and Anthony Blea.

The featured performers on Disc 1 are Estrellas De La Bahia, Velarde, Blea, Avance, Louie Romero, Orquesta la Moderna Tradicion, Vission Latina, Edgardo y Su Candela, Diaz, John Calloway and the John Santos Sextet. The Disc 2 lineup is Estrellas De La Bahia, Orestes Vilato, Diaz, Edgard y Su Candela, John Santos and The Machete Ensemble, Calloway, Velarde, Orquesta la Moderna Tradicion, Avance and Blea.

Wallace arranged a few tracks, composed one and is part of the ensemble for two of the three tracks performed by Estrellas De La Bahia, an all-star ensemble comprised of many of the scene's key players.

It would be pointless to try to single out any songs. They're all that good. The vocals are solid, and the instrumentation is superb. The Estrellas De La Bahia pieces were recorded especially for this project. All other songs were previously released on independent labels.
The package includes extensive liner notes by Jesse "Chuy" Varela, who has written for Jazz Times, Latin Beat and the San Francisco Chronicle. The notes highlight the history of the Bar Area's salsa groove, a profile of contemporary salsa, a preview of the documentary and information about the artists featured in the set.

One song that is worth singling out is the closing track on Disc 1, "Rumba Para Paul," a tribute to drummer Paul van Wageningen, who was an integral part of the scene for three decades until his death in 2012. Composed and arranged by lead vocalist Edgardo Combon, this piece is performed by Estrellas De La Bahia. It's a fitting tribute as well as finale to the concert-like collection of songs.

The Last Mambo is due for release in spring 2014.

www.patoisrecords.com

www.thelastmambo.com