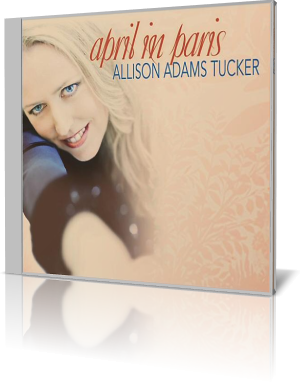 "April in Paris" is a tried-and-true song that has proven popular among singers and musicians. However, it takes on a different feel when the singer is actually in the city of love. That's the approach taken by Allison Adams Tucker for her second release, April in Paris (Allegato Music, 2014).

The album was recorded at a Paris studio on April 30, 2012, the first UNESCO International Jazz Day, at the end of Tucker's European tour. The album presents a mix of vocal jazz, Brazilian, French and other styles.
Accompanying Tucker are Emmanuel Massarotti, piano and Fender Rhodes; Evona Wascinski, contrabass; and Julie Saury, drums. Appearing on selected tracks are Ze Luis Nascimento, percussion; Mirko Guerrini, saxophones and Peruvian flute; and Peter Sprague, guitar.

Tucker's voice is rich, soothing, as she croons the delightful, "It Might as Well Be Spring." The guitar, Rhodes and percussion complement her, along with the other instruments. Massorotti goes on a jaunt not unlike some early Bob James. The bass and drums are in tight syncopation.

"Le Temps Du Muguet (Moscow Nights)," one of three tracks sung in French, is a charming ballad. Lou Fanucchi provides the accordion. In the background, the instrument gives the music that Parisian vibe. He also performs on the title song.

Tucker's only original composition on this date is the lovely "Seasons of Song." Guest violinist Louise-Emmanuelle Dorche figures prominently. It's an easygoing groove, with piano and violin providing the primary instrumentation. For her part, Tucker's lyrics and vocals have the power to enchant.

Born in San Diego, California, Tucker is a multilingual vocalist. She began singing before she could talk. Raised by classically trained musicians, she began performing at age 5. Her debut, Come with Me (Allegato Music, 2008), was nominated for Best Jazz Album 2009 by the San Diego Music Awards.