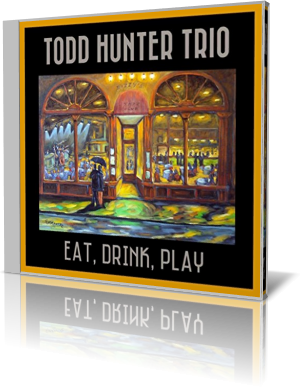 Life experience is the inspiration for the Todd Hunter Trio's Eat, Drink, Play (Dexterity Records, 2016).

Hunter plays piano. Dave Robaire handles bass on all but one track. Rufus Philpot covers it on the closer, "210 to the 15." Drum duties are split between Steve Hass and Aaron Serfaty.

The opening track is the sunny, upbeat, "Big Bird." It's a happy, proud strut through the neighborhood, occasionally changing pace to toss a ball back to a group of kids, or wave to someone on the porch. Hunter can hardly contain his excitement as he plays those keys with the vigor of one who has no troubles on his mind. About two-thirds of the way in, the leader steps aside, giving Robaire a moment to stretch out. The title was inspired by someone Hunter met during travels. The individual reminded Hunter of the Sesame Street character.

"I See More Than One" is a slight nod to Dave Brubeck's recording of "Take Five." The tune is soft, tranquil. The artist explains it's a comment on people who seem to lack awareness of those around them. Taken a step further, it can also suggest those who lack the ability to pay attention to more than one thing. Robaire is featured prominently throughout, whether his trance-inducing rhythm or his middle solo.

Hunter was keyboardist and pianist for Dionne Warwick. He has performed on every continent, except Antarctica. This has given him broad perspective on the world, as he sampled local foods and drinks on those tours, leading him to the title, Eat, Drink, Play. Hunter's love of the piano trio is drawn largely from his fondness of the music of Bill Evans, Ahmad Jamal and Oscar Peterson.