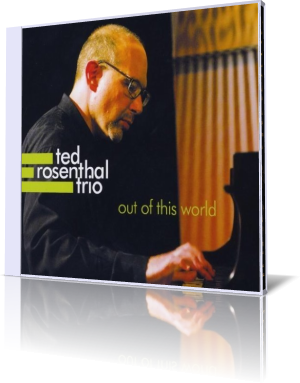 With Out of This World (Playscape Recordings, 2011), the Ted Rosenthal Trio takes another visit to the American Songbook, reinterpreting 10 classics in a fresh and engaging manner.

Pianist Rosenthal is accompanied by bassist Noriko Ueda and drummer Quincy Davis. Rosenthal wrote all the arrangements. Even though he is the leader, there's rarely a moment when Ueda and Davis aren't equally invested.

The set begins in robust fashion. The title song has a deceptive time signature. Though mostly in 3/4, the trio alternates between intense and laid back, shifting even further into something placid during the middle. The main difference is the number of notes per beat, and how those notes are played. The musicians are a seamless unit, but because they don't have to compete or make space for a larger band, each stands out on his or her part.

The trio takes a delightful romp with the Rogers and Hart composition, "Have You Met Miss Jones." One of the shorter tunes on this date, there's plenty of bang for the buck. The rear cover photo of Ueda shows her smiling as she plays. That image gets burned into the memory while listening to her. Rosenthal and Davis play with equal verve.

Rosenthal and his accompanists slow things down with Gershwin's "Prelude #2." The mood gives it a smoky, blues bar flavor. At nearly eight and a half minutes, it's the longest track in the set, allowing the players to stretch freely.

Rosenthal's versatility has been demonstrated as a soloist, leader and sideman. His associations include Gerry Mulligan, Art Farmer, Phil Woods and James Moody. He is the 1988 winner of the Thelonious Monk International Jazz Piano Composition. Out of This World is his 12th recording as a leader.