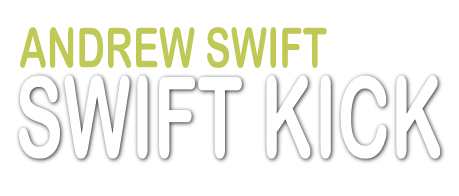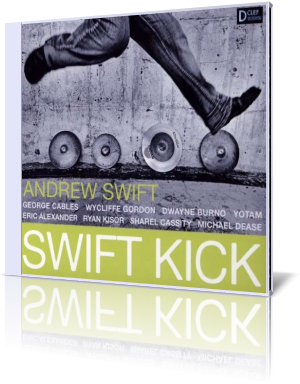 There have been years when I received a few new releases early and am so blown away by a recording that I proclaim it to be among the best, new jazz albums for the year. It's nearly midway 2012 as I write this, and no one CD has given me that feeling. However, in recent days, I've listened to several that belong in the "best of the year" category because of their freshness and overall music quality. Swift Kick (D Clef Records, 2012) by drummer Andrew Swift is in that class.
The 12-track release has five songs composed by the artist, and two by members of the ensemble. The mix-and-match lineup features 16 musicians and a hawk. Among the former are bassist Dwayne Burno, who appears on all but one track, and pianist George Cables.
The ominous "Kisor the Despiser" suggests a dark anthem for an unsavory character in an ancient work of fiction. But the only omen here is the sign of things to come – in this case, straight jazz with a lot of energy. Trumpeter Ryan Kisor is featured, along with composer Sharel Cassity, who also plays alto sax on the track. The two blend for the melody before taking turns out front. Cables also gets a turn. The tune is spirited, with a lot of activity in the background by Burno and Swift.
Vocalist Vanessa Perea leads on "The Rio Dawn," a tranquil piece that has a hint of Brazil in the rhythm. Yotam Silberstein adds electric guitar. One can imagine Perea dancing the samba during the series of solos by Silberstein, Dease and Cables. Her voice is soothing, not unlike Flora Purim. Michael Dease plays multiple brass instruments on several tracks. Here, he takes the flugelhorn out.
Swift's career as a drummer began when he was a child, using chopsticks to beat on things. Early retirement came when the dining utensils couldn't hold up to the pounding. However, when he as in fifth grade, he joined the band at his new school. From then on, he played in every musical activity possible. As an adult, he moved from his native Australia to New York, where he developed associations with several musicians who are part of this project. He performs regularly with two other groups and teaches elementary school children about music.