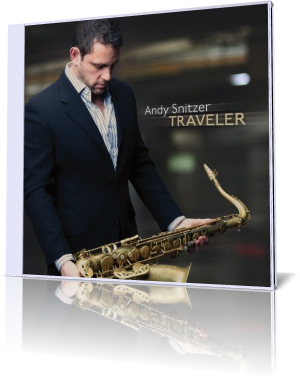 Though he was active, saxophonist Andy Snitzer had not fronted an all-new studio recording in almost 12 years. He gets back into the groove with Traveler (Native Language, 2011). A mix of soft, pop-jazz and electronica, the set celebrates his travels abroad.

"Marseille" is a tranquil piece that features Snitzer on the tenor, David Mann on flutes and Chuck Loeb on guitar. The ethereal mood is accented by the synths, performed by Mann, Snitzer and pianist Alain Mallet.

"Lausanne" captures the element of getting around. Its lively groove creates a vision of exploring nightlife or simply cruising, taking in the sights. Bassist James Genus and drummer Karl Latham help set the tone. Mallet adds some nice piano fills and kicks in a delightful, yet brief solo.

Snitzer spent some of his travels working with rock legend Paul Simon. He was part of the Rolling Stones' Voodoo Lounge and Bridges to Babylon tours. Other associations include Elvis Costello, Aretha Franklin, Chaka Khan, Dr. John, Twisted Sister, Bob Janes and Jane Monheit.

Over the years, I've been very critical of smooth jazz that was overly dependent on the use of synths and programming in lieu of an acoustic drum kit, especially when a guest musician or label-hired producer does it. However, an artist's hands-on approach makes a tremendous difference. Snitzer clearly has a certain feel in mind, so the result is a cool and pleasant soundscape.

Some songs are good for a joyride, some for dancing and others for just kicking back and letting the mind be the Traveler.