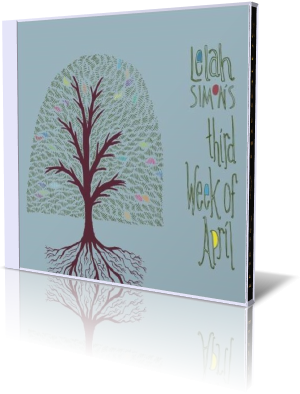 Lelah Simon was recently noted for her performance with The Dominant 7 on Fourteen Channels, a release featuring two ensembles of students and alums from the Colorado Conservatory of Jazz. A Denver-based bassist, Simon studied at the New School for Jazz and Contemporary Music.

Third Week of April is Simon's nod toward one of two times of year when New York weather is perfect. Her band is comprised of Paul Romaine on drums; Chris Mosley on acoustic and electric guitars, and vocals on "151"; Carmen Sandim on keyboards; Danny Mayer on tenor sax; and Julia Brochey, vocals on "Others' Eyes."

The electric bass opens "To Be Oblique," underscored by subtle cymbals and keyboards work. After the introduction, the soft tenor and electric guitar take the lead. The music conjures a scene of a city park, with a gentle breeze blowing the newly sprouted leaves and a few tweeting birds. Mosley's middle solo is freely expressive.

Brochey sings like a flute with words on "Others' Eyes." Effects by guitar and keyboard add an ethereal element to this piece. Simon's bass complements nicely.

"Gift," at just over nine minutes, is the longest song in the set. It's also one of the more upbeat. Guitar and sax blend well on the lead. The bass is more of a force than on most of the tracks, but it doesn't dominate. Mayer puts the tenor through some flitting riffs during his solo, later making the horn squeal. Romaine is also more engaged, mixing the toms, snare and cymbals in a variety of patterns to accompany the lead instrument. Mosley solos, as well.

Simon composed all but two tracks, one of the covers being Neil Young's "Tell Me Why." Every song fits the springtime theme of the overall set. That may work against it, as there isn't much range of mood. Third Week of April is self produced.