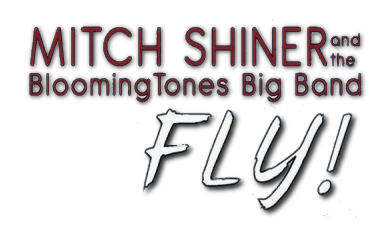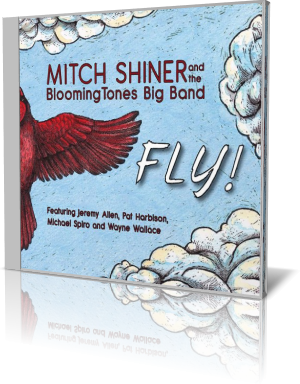 Fly! (Patois Records, 2014) is the startling debut of Mitch Shiner and the BloomingTones Big Band. The percussionist, composer and arranger is a protégé of trombonist Wayne Wallace and follows the trail blazed by other products of Indiana: Freddie Hubbard and Wes Mongtomery among them.

Shiner was born in Milwaukee but received musical education in Indiana, where he also has performed with a variety of jazz ensembles.

The BloomingTones Big Band are: Amanda Gordier, alto and soprano saxophone, flute and alto flute; Adam Carrillo, alto and soprano saxophone, clarinet; Matt Roehrich, tenor saxophone, alto flute and clarinet; Alex Young, tenor saxophone and clarinet; Steven Banks, baritone saxophone and bass clarinet; Dan Coffman, lead trombone; John Sorsen and Stewart Rhodes, trombones; Wayne Wallace, trombone on two tracks; Brennan Johns, bass trombone; Jordan Ghaim, lead trumpet; Josiah Lamb and Lexie Signor, trumpets; Joe Anderson, flugelhorn, trumpet and electronic valve instrument; Pat Harbison, trumpet on two tracks; Matt Johnson, tuba on two tracks; Eric Dumouchelle and Torrey D'Angelo, tuba on "Raindrops Keep Falling on My Head"; Matt MacDougal, guitar; Richard Baskin, vocals on three tracks; Michael Spiro, vocals on "When You Wish Upon a Star"; Anna Butterss (three tracks), Rob Walker (five tracks) and Jeremy Allen (two tracks), bass and baby bass; John Weisinger, piano; Joe Galvin (two tracks), Kristin Olson (five tracks), Shiner (four tracks) and Spiro ("When You Wish Upon a Star"), percussion; Olson (four tracks) and Shiner (three tracks), vibraphone; and Ben Lumsdaine ("Watchful Eyes"), Josh Roberts (two tracks) and Shiner (six tracks), drum set.

"Dragon Express" opens the set in sizzling fashion. Shiner's cymbal splashes, Butterss riveting bass line and Olson's vibes open the gate, which the horns obligingly enter. The piece is loaded with rapid-notes-per-bar phrasing. Featured soloists are Young, Lamb and Shiner. The mood downshifts for the trumpet interlude, but as Lamb goes on, you can feel things brewing underneath. Ultimately, they all turn the juice back on. After the brass and winds trade blazing passages, MacDougall sneaks in a few licks, setting up the fiery end.

The title song is one of the longer pieces in the set. One of five Shiner originals, it begins softly. The pace is moderate, and the horns take it easy. Overlapping phrases with the trumpets here, the winds there and the trombones in another place is like a finely woven tapestry. MacDougall solos first, giving us a hint of Wes Montgomery or Lee Ritenour. Anderson then steps in. The band quiets during this passage. Things start to heat up, though but then quickly shift into a different gear. The pace changes to a strut, with a hint of Dixieland as Anderson switches from flugelhorn to trumpet and engages in a call and response with Carrillo on the soprano sax. While the two engage, the band swells again only to bring it back down. Lots of highs and lows in this one.

The set ends with Richard Baskin providing the voice for a sterling cover of Gino Vanelli's "Brother to Brother." Anderson takes to the electronic valve instrument on this one, and Olson handles the congas. It's the second-longest track in the set, giving plenty of space for the musicians to flourish while highlighting Baskin's delivery of Vanelli's lyrics.

Shiner receieved a Summer 2013 Creative Activity Grant through the Indiana University Hutton Honors College to compose five big-band charts influenced by people and places in his home town of Milwaukee. He is a member of the Postmodern Jazz Quartet, Jazz Fables Quintet and Wayne Wallace Latin Jazz Octet. He performs regularly with the Buselli-Wallarab Jazz Orchestra, Midcoast Swing Orchestra and the Leisure Kings.