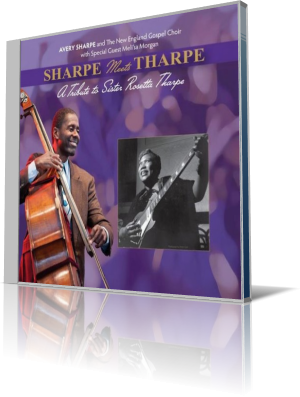 Among the superstitious, jazz is considered "the devil's music." Avery Sharpe joins the chorus of musicians who defy that line of thinking by showing that jazz, like any other genre of music, can be used for inspiration and to praise God. Sharpe Meets Tharpe: A Tribute to Sister Rosetta Tharpe (JKNM Records, 2016) presents the acclaimed bassist with The New England Gospel Choir and special guest Meli'sa Morgan.

Sharpe plays double bass, six-string electric bass and uses his voice. Meli'sa Morgan is lead vocalist on the songs that have lyrics. The other musicians are Charles Neville, tenor sax with solos on "Shout Sister Shout" and "Miss Nubin"; Michael King, piano and Hammond B-3 organ; Cory Cox, drums; Charles Langford, tenor and soprano saxophones; Jeremy Turgeon, trumpet; and James Messbauer, trombone. The New England Gospel Choir consists of Kevin Sharpe, director, tenor and bass; sopranos Heather Lord, Tania Greene and Shaina Paris; altos Wanda Rivera, Sofia Rivera and Linda Turner; tenor Heshima Moja, who leads on "Lonesome Road"; bass Robert Rivera; and rehearsal pianist Michele Feldheim.

"This Train," a traditional spiritual, opens the set. Sharpe and Cox lay down the groove as the horn section warms up. Morgan sings in a style similar to Mavis Staples, blending gospel spirituality with soulful toning. King takes point during the middle break, with the choir adding a haunting, ethereal element. Sharpe then licks his chops on the electric, striking a series of high notes that make you wonder if it's a bass or a guitar.

"Spiritual Dilemma" is one of two Sharpe-penned instrumentals. It has a finger-snapping beat led by the bassist. After piano and drums engage, the horns blend for a bouncy, swinging lead. A series of solos follow, in order: trombone, trumpet, piano, bass, tenor sax. Cox gets to show his chops during a call and response with the horns during the closing sequence.

Sharpe was raised in the Church of God in Christ, where he played electric bass. He later began playing jazz with a double bass, performing with such icons as McCoy Tyner and Wynton Marsalis. In the accompanying literature, Sharpe acknowledges there was a divide between sacred music and secular music. Sister Rosetta Tharpe was among the first to be successful with both styles. Sharpe Meets Tharpe explores songs that Tharpe popularized, with two original tunes in her honor.