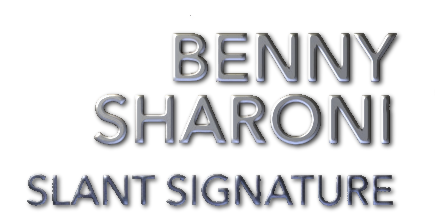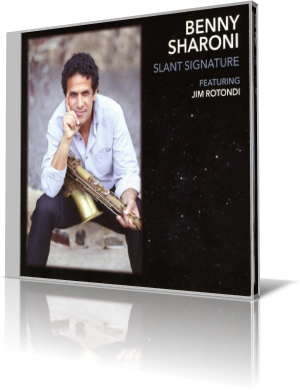 With a style compared to that of Sonny Rollins, Benny Sharoni delivers a beauty in Slant Signature (Papaya Records, 2015). It's a set that simultaneously showcases his mastery of the tenor saxophone and the elegant side of jazz.

Accompanying Sharoni are Jim Rotondi, trumpet; Joe Barbato, piano; Mike Mele, guitar; Todd Baker, bass; and Steve Langone, drums.

"Minor City," one of five original songs in the set, starts in dynamic fashion. Sharoni and Rotondi share the lead during the opening sequence. Then the two take turns out front, delivering high-energy, rapid-fire phrases. The rhythm section is locked in throughout. Barbato also gets to stretch out. Sharoni and Rotondi then alternate in call-and-response passes with Langone.

Barbato sets the groove on the cover of Freddie Hubbard's "Down Under." Music doesn't get much cooler than this. As before, the horns blend on the melody, delivering that one-of-a-kind sound that only a trumpet and tenor sax can make. Sharoni plays with a cool-cat vibe, letting loose like one of those William Lava variants of Mancini's "Pink Panther" theme. After Barbato takes a turn, Rotondi brings it with a very Hubbardesque solo. Baker stretches out, as well. Through it all, Langone's cymbal splashes are the ideal complement.

The vibrant title song is a play on words. "Slant signature" can refer to handwriting that tilts, or the name of a hard-rubber mouthpiece made in the 1940s. Whatever the inspiration, Sharoni and the band bop to their hearts' content. Mele gets into the act, playing in a style that can easily draw comparisons to Wes Montgomery or George Benson.
Sharoni was born in Israel of Chilean and Yemeni immigrants. Now a resident of Boston, he has performed gigs with Joshua Redman, Danilo Perez, Kenny Garrett and Larry Coryell, among others. In 1986, after a stint in the Israeli army, Sharoni moved to the United States to attend the Berklee College of Music. He tours the East Coast, Canada, Europe and Asia.

Slant Signature pleases in many ways, incorporating many of Sharoni's life experiences and musical influences, including that of Brazilian songwriters.