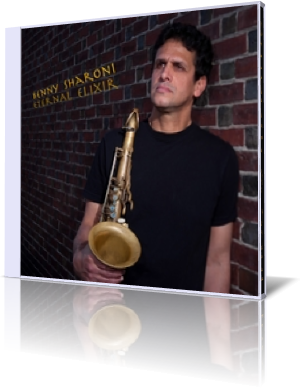 Tenor saxophonist Benny Sharoni debuts in style with Eternal Elixir, his first recording as a leader. Born in Israel to a Chilean mother and Yemeni father, he was inspired by the music of Sonny Rollins and Steely Dan.

Sharoni is accompanied by trumpeter Barry Ries, pianists Joe Barbato and Kyle Aho, guitarist Mike Mele, bassist Todd Baker and drummer Steve Langone.

"French Spice" is appropriately titled. Mixed up like a fine salad, the blended horns add a zesty flavor to this piece. It's an energetic, fun piece that reflects the mood of the recording as a whole. Solos by trumpet, piano and tenor enhance this Donald Byrd composition.

"Sunny" puts a Latin spin on the Bobby Hebb pop classic. The soft tenor leads, with the trumpet filling with response phrases. Solos are by trumpet, piano and tenor. Throughout, bass and drums carry an effective rhythm, occasionally stretching out a bit while continuing to support the leads.

Tenor and trumpet lead on the lively "Pentecostal Feelin'." The song is part danceable rock, part spiritual celebration. Guitar, trumpet and piano solo ahead of Sharoni. Mele has a Lee Ritenour / Wes Montgomery flair to his play.

For Sharoni, music provided a much-needed respite from the horrors of war, when he served a mandatory three-year stint with the Israeli army. That was in the early 1980s. After studying at the Berklee College of Music in Boston, he began leading his own bands and accompanying other artists, such as Joshua Redman, Kenny Garrett and Larry Coryell.

More than 20 years after his military experience, Sharoni steps out and delivers an energy-filled, passionate dose of jazz.