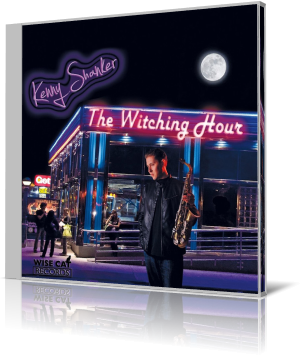 It's straight-ahead jazz, but with enough melodic influences to work for the masses who tend to shy away from things that aren't catchy. Saxophonist and composer Kenny Shanker releases The Witching Hour (Wise Cat Records, 2017).

Shanker plays alto and soprano saxophones. His accompanists are Mike Eckroth, piano; Daisuke Abe, guitar; Yoshi Waki, guitar; and Brian Fishler, drums.

Shanker plays the alto on the opener, "Kottinger Park." It's a high-energy, fun romp. The leader plays with passion, exploring the range of his instrument, with powerful cohesion among his accompanists. Middle solos by Eckroth and Abe keep things going, but it's the play of Waki and Fishler that keeps it all together. The two really get busy behind the guitar.

"Spin" is a mellow, easygoing piece. Shanker delivers a smooth, clean sound on the alto. During some of the high-note passes, it becomes brighter, sunnier. While Shanker, Eckroth and Abe get their moments out front, the real star here is Waki. In group play, it's easy to lose the bass as it gets overpowered by other instruments or, when there's real balance, the listener tends to focus on the lead. However, there isn't a moment here when Waki's presence is not felt. The same can be said of Fishler, but Waki stands out a little more.

Then there's the aptly titled "Bobblehead." The pace, the fun, the joy this song inspires will likely have many a listener bobbing her head. Finger snapping and toe tapping follow suit. Some might want to get up and dance. It's just an all-around feel good song.

Shanker won an ASCAP award for composition and wrote music for the independent film, Out of the Fog. His debut release was Steppin' Up (Posi-Tone Records, 2011). He has performed with the New World Symphony, Tommy Dorsey Orchestra, the Nelson Riddle Orchestra, R&B singer Shannon, David Benoit, Richard Bona and many more. He has also played the "Star Spangled Banner" at home games for the Oakland Raiders and Golden State Warriors. Shanker resides in New York City.