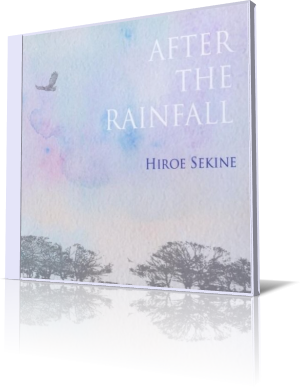 Pianist and composer Hiroe Sekine brings some soothing, ambient sounds with her second release as a leader, After the Rainfall (Sekai Music, 2012). This elegant set offers four original songs and Sekine's arrangements of titles by the Beatles, Chick Corea, Antonio Carlos Jobim and Thelonious Monk.

Sekine plays acoustic piano, keyboard and provides vocals in the way of wordless chants and lyrics. Her band consists of Bob Sheppard on tenor and soprano saxophones and flute; Larry Koonse on guitar; Darek Oles on acoustic bass; Jimmy Johnson on electric bass; Peter Erskine on drums and shaker; and Arnold McCuller on vocals.

The title song is a delightful piece written by Sekine. Guitar and piano blend for the melody at the beginning. As the song picks up, Sekine's ethereal vocal carries the lead. The music has an air of David Benoit about it.

Erskine was an excellent choice. He's on a short list of drummers who stand out, even when carrying the rhythm. Whether a roll of the toms or a series on the splash cymbal, he has a way of doing more than just hitting the notes at the right time. He's an exceptional complement to any leader. Koonse starts with acoustic guitar but later switches to electric, adding a haunting quality.

Sekine slows down the cover of the Beatles' "In My Life." She sings the first verse and chorus, stepping aside for McCuller on the second. During the tranquil middle break, Oles serenades on the acoustic bass. The vocalists harmonize on the final chorus, giving this rendition a charm all its own.

"Aqui O," penned by Toninho Horta and Fernando Brant, injects some samba into this affair. Sheppard's flute completes this taste of Brazil.

After the Rainfall is produced by pianist/composer Russell Ferrante, a founding member of the Yellowjackets.