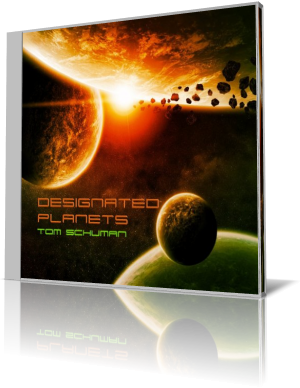 By the time Tom Schuman entered his teens, he was already a finely tuned classical and jazz pianist, as well as consummate jammer. Encouraged by his jazz bassist father and jazz singing mother, he quickly developed a career playing in pop and jazz bands, and union gigs in the Buffalo, New York, area. That ultimately led to his joining a new group fronted by saxophonist Jay Beckenstein and keyboardist Jeremy Wall. The group: Spyro Gyra.

Schuu was just 17 when he joined that band and has been its featured keyboards player since. He has also composed more than 50 songs for the group, the first being "Laser Material" for Catching the Sun. He occasionally sits in with other artists and has recorded six solo CDs. The latest, Designated Planets (JazzBridge, 2013), presents 11 new songs plus a vocal arrangement of a previously recorded instrumental.

Guitarist Steve Oliver and saxophonist Jeff Kashiwa contribute to the title song. The piece starts with an ethereal sound, like the opening credits of a spacey science fiction movie. But it quickly shifts into a rock-fusion groove. In addition to piano and keyboards, Schuu handles bass, drums and percussion programming for all tracks except where noted. And while Oliver and Kashiwa are out front most of the way, the rhythm tracks are equally engaging.

Schuu breaks out the funk with "Against All Odds." Skip Martin steps in on muted trumpet, and Julian Tanaka brings the tenor sax. The two voices blend on the melody, with Kevin "Stixx" Marshall on the drum kit. The staccato rhythm enhances the piece. Oliver brings the wah-wah effect on the rhythm guitar. Interestingly, Schuu's bass line stands out more than his keyboard work, except for his solo about three minutes into it, which carries the remainder of the song. Marshall provides background vocals behind Schuu's solo. I try to imagine what that would sound like without the vocal. Of course, it would be excellent, but Marshall's effort doesn't take anything away. So the conclusion here is that it works. More on that later.

"Then You Walked In" is more of a straight jazz piece, with Tanaka and Martin handling the melody again, this time with Martin on flugelhorn. Spyro Gyra bandmates join in, with Scott Ambush on bass and the group's former drummer, Bonny B working the kit. After the horns step back, Schuu takes over on acoustic piano. Plenty of toe-tapping, finger-snapping and head-bobbing to go with this – so far, my favorite piece in the set.

"Inevitable Changes" brings in another former Spyro Gyra drummer, Joel Rosenblatt, with Vinny Valentino on guitars and Sarah Brooks providing backing vocals. It starts as an easygoing piece with Schuu playing acoustic piano. As the intensity picks up, so does the beauty, boosted by Brooks' wordless chant.

Kevin Whalum co-wrote, with Schuu and bassist Rocco Prestia, "Look in My Eyes." The main part of the song, where Whalum sings the title, is upstaged by his scatting during the instrumental breaks. Martin comes back with trumpet and vocal lead on the sassy "You're the One for Me," which he also co-wrote with Schuu and Prestia. It's hard to listen to this one and not think of "Make It Mine," the James Brown-esque piece that Bonny B wrote for Spyro Gyra's Down the Wire. Though a very different song, it has that same kind of flavor.

Tanaka plays multiple saxes on "Last Confession." Current Spyro Gyra drummer Lee Pearson sits in as well. Tanaka handles the melody, but Schuu scores big with his piano solo. There's a cool, stop-time sequence featuring all instruments. An uncredited female vocalist adds a haunting quality to the bridge between the middle solo and the return to the funky melody.

The set closes with "Because of You," the third remake of a song that Schuu recorded for Into Your Heart. The others, "Shinjuku" and "Samba for Two" were covered admirably by Spryo Gyra for A Foreign Affair. When this ballad, written for Schuu's wife, Yvonne, begins, one wonders if it's the original. Then, Kevin Whalum's soothing voice declares it is not. The lyrics make an already beautiful, romantic piece even more romantic. Also contributing to this track are background vocalist Serena Henry and drummer Austin Pooley.

When it comes to music, I have two major pet peeves: drum programming and guest vocalists, the latter mainly in reference to instrumental artists.

On programming, Schuu gets an A-plus. When I first played Into Your Heart, I noticed there were no credits for drums or bass. I asked Schuu during an interview if they were programmed. He said yes (re-issues of that CD give him credit), but that he wasn't crazy about the idea of putting "programming" in the liner notes. He understood that many jazz listeners have negative attitudes about the practice. However, he employed a different approach. With better software and personal care, he created sounds that fooled the listener into believing someone was actually playing an electric bass and acoustic drum kit. So when I see, "Tom Schuman, drum and bass programming," I don't worry. I know it's not some bland, cookie-cutter rhythm track. With his work on Designated Planets, Schuu takes the degree of quality and professionalism to an even higher level. One could call it a stellar performance.

As to vocals, it's not that I believe an instrumental artist should never have guest vocalists. One thing I have been critical of is when a contemporary or smooth jazz artist brings in a pop or R&B singer. That would be fine if they sang jazz songs. But what usually happens is they sing the kind of pop or R&B song they're used to singing, and the jazz musicians are just there for background. The song can be wonderful. But if you can't tell there's a jazz band behind the vocalist, that's a problem. That said, Schuu's prints are all over Designated Planets. Even when he steps back to let the horns or guitars lead, his work on bass, drums and percussion keep him firmly engaged. Also, the fact that Schuu wrote these songs instead of the guest vocalist or some other producer, makes a difference.

Designated Planets is a cool, fun, engaging journey to other worlds.