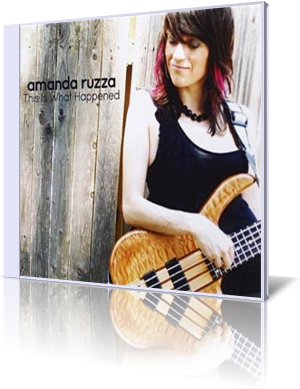 Youth and talent with a multicultural focus brings us to This Is What Happened (2012), the debut recording by bassist Amanda Ruzza.
Born in Sao Paulo, Brazil, to a Chilean mother and an Italian father, Ruzza learned at an early age to appreciate opera and rock, and ultimately adapted to other styles, including jazz. She took up the electric bass at age 12, and a year later had begun playing professionally. Drummer Mauricio Zottarelli is the only constant with Ruzza. The other musicians, who each appear on selected tracks, are Alex Nolan on electric and acoustic guitars; co-producer Mamiko Watanabe on Rhodes; pianist Cliff Korman; David Binney on alto and soprano saxophones; Lucas Pino on tenor and soprano saxes; and Chris Stover on trombone.
One can hear hints of Marcus Miller or Stanley Clarke in the way Ruzza plays. The funky "Larry and I" opens the set. Binney leads on the opening melody and then turns it over to Watanabe, who gives a touch of Eumir Deodato the way he handles the Rhodes. Ruzza makes her presences felt regardless of who is out front. And Zotarelli struts his stuff behind all of them.
"Gin" features Pino and Stover in a tight, harmonizing lead. After a syncopated exchange between Watanabe and Zottarelli, the trombone takes point. Ruzza lays down the groove, punctuated by Zotarelli's strikes on the toms. More stop-time phrasing is mixed in with Watanabe's solo.
Five of the seven tracks were written by Ruzza. She also co-arranged "Gin," which was written by Watanabe. Several styles, including Brazilian, are referenced in the set of This Is What Happened.
Ruzza is young but well-traveled. She has studied in New York City, having participated in session with producer Jason Miles and Simon Katz, a member of Jamiroquai. She's also studied at the Berklee College of Music. She toured with Mustang Sally, an all-girl country band that's based in Nashville, Tennessee. And she has played for U.S. military bases in Japan, South Korea and within the United States.