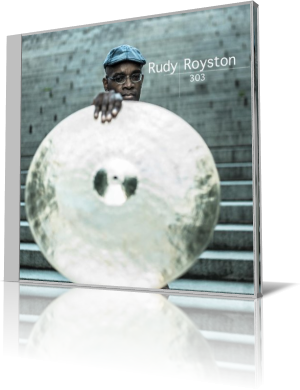 Just a few minutes into 303 (Greenleaf Music, 2014), it's easy to see why Rudy Royston is an in-demand drummer. His play may bring to mind any of several masters on the sticks – a list that includes but is not limited to Lenny White, Steve Gadd, Vinnie Colaiuta, Peter Erskine and Harvey Mason.

From Denver, Royston has served as sideman for an array of talent such as Tia Fuller, Bill Frisell and others. His debut is named for Denver's area code. Sidemen on this date are Sam Harris, piano; Yasushi Nakamura and Mimi Jones, bass; Jon Irabagon, saxophones; Nadje Noorhuis, trumpet; and Nir Felder, guitar.

"Mimi Sunrise" has the sound of daybreak with Royston accompanying a variety of sounds with subtle drum taps and plenty of cymbal splash. The piano adds to the mood. Ultimately, a rhythm begins to take shape, setting up the haunting guitar, trumpet and saxophone play.

"Goodnight Kinyah" is a charming lullaby for Royston's daughter. The longest piece in the set at nearly nine minutes, it features elegant play from all musicians, with Felder and Irabagon enjoying much of the spotlight. Noorhuis switches to flugelhorn for this track.

"Gangs of New York" could double as a performance piece and a theme for a feature film. Felder's guitar goes rock. The horns are dynamic, and Royston gives the kit an intense workout.

Royston composed nine of the 11 tracks on 303 with two songs covering Radiohead and Mozart. All in all, a good exercise for the ears.