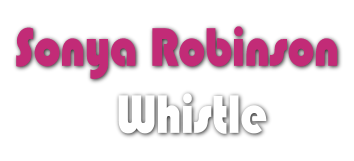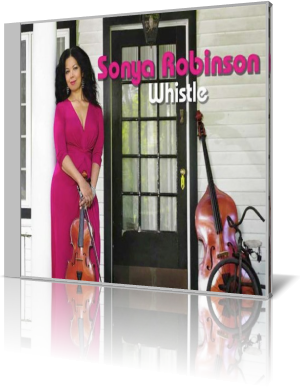 A lovely front porch photo is the cover for Sonya Robinson's Whistle (2013). It shows the artist holding her violin, a cello propped against the wall and a child's bicycle. It's a visual appetizer for the audible main course.

Whistle is described as "one of those" jazz string albums that takes years from concept to completion. It's a tribute album dedicated to the memory of Robinson's mother.

Robinson plays violin and viola, plus triangle on "Carib-bean." Other personnel are Manuel Valera, piano and keyboards on all but two tracks; Axel Tosca, piano and keyboards on "I Want to Know"; Monte Croft, Fender Rhodes on "The World Is a Ghetto"; John Benitez, electric bass on all but "The World Is a Ghetto"; Paul Ramsey, electric bass on "The World Is a Ghetto"; Jay Rodriguez, flute on "Circle"; Kahlil Kwame Bell, percussion on all but "Circle," and drums on "The World Is a Ghetto"; Francis Benitez, drums on all but "The World Is a Ghetto," percussion on two other tracks; Eric Person, alto saxophone and flute; Vinny Valentino, electric and acoustic guitars.

The opening track is the lovely "Mother's Song." With subtle contributions by Valentino and the rest of the core ensemble, Robinson plays in a way that is warm, sad at times but always loving.

The title song is a playful piece that includes an uncredited whistle during the main melody. Valera gets to stretch out a bit, but also pay attention to the emphatic support from John and Francis Benitez. A police or parade whistle takes point after the piano solo. Robinson's strings are layered during the main body of the song, with violin and flute sharing the high notes.

The wailing violin captures the melancholy mood of War's "The World Is a Ghetto." Croft adds a nice touch on the Rhodes. After the verse and chorus, Robinson goes exploring through the inner city that reflects the song's theme of despair – a wake-up call that says, "Humanity can do better than this."

Whistle is Robinson's fourth album as a leader. She wrote all but one of the original songs, "Beauty," which was composed by Person. Robinson's parents are from Mississippi and Texas, but she was born in Milwaukee. She has been a featured guest performer for the United Negro College Fund's annual fund-raiser and has performed at Summerfest, Berlin Jazz Festival and Jacksonville Jazz Festival. Robinson has also won many honors and nominations. She was nominated for the NAACP Image Award for Best New Album, has been voted one of America's Ten Most Beautiful Black Women and crowned Miss Black America.