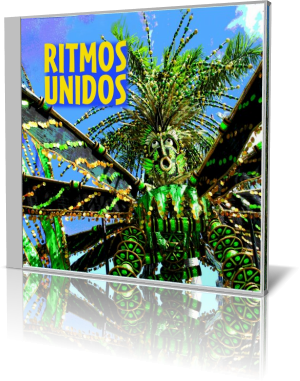 It's a carnival atmosphere as eight-time Grammy nominee Michael Spiro leads Ritmos Unidos on
Ritmos Unidos
(Patois Records, 2014).
The group consists of Spiro, congas, bata, hand percussion; Jeremy Allen, upright and electric bass; Jamaal Baptiste, piano and keyboards; Joe Galvin, steel pans, bata, hand percussion and background vocals; Pat Harbison, trumpet; Nate Johnson, tenor saxophone and background vocals; Mike Mixtacki, drums, timbales, bata and lead vocals; and Joel Tucker, guitar and tres guitar. Special guests are trombonist Wayne Wallace, who heads the Patois label, steel pan artist Liam Teague and marimba specialist Kevin Bobo.
"Ritmos Unidos," penned by Wallace and Spiro, gets the party started. With one of the pans out front part of the way, the percussive play and horns are the highlights of this track, as they are throughout the set. The celebration is evident during the vocal call and response sequence, which overlaps Wallace's throaty trombone solo. Guitar, trumpet, sax, bass and piano also get their licks in.
"Chaweleke," penned by Johnson, is the middle track of the three-piece "Ochun Suite." It's softer, more mellow, yet still festive. The horn section carries the bright, sunny melody through much of the song. Johnson, Tucker, Harbison and Baptiste are featured. Harbison has an extended solo on muted trumpet. The climax is when the vocals, horns and steel pans mix and match, accented sharply by the percussionists.
The ensemble's interpretation of Wayne Shorter's "Water Babies" is more electronic, with wah-wah effects from the guitar and Baptiste employing the keyboard. It provides a slightly funky element. Johnson would make Shorter proud with his performance. After another vocal call and response, Harbison steps out. His play is bright, but mellow. Think Randy Brecker meets Herb Alpert.
Ritmos Unidos is the blending of various Caribbean musical styles. Spiro is an internationally respected percussionist who has deep ties in Cuba. He graduated from school in San Diego but didn't start studying an instrument until the age of 19 when he was a student at the University of California at Santa Cruz. His career has included collaborations with some heavyweights, including Clark Terry, McCoy Tyner, Ella Fitzgerald, Gilberto Gil, Bobby Hutcherson, Chico O'Farrill and Charlie Watts.