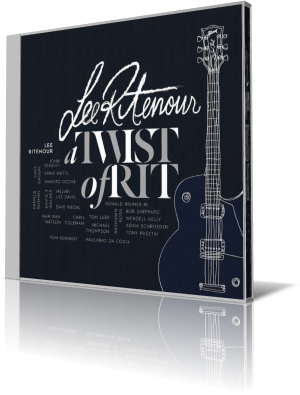 Is it possible for Captain Fingers to get better? A listen to A Twist of Rit (Concord Records, 2015) is the latest example of guitarist Lee Ritenour outdoing himself. The album is a mix of original tunes and reinventions of classic Rit.

Performers on this date are mostly alums of Rit's past recordings: keyboardists John Beasley, Dave Grusin and Patrice Rushen; saxophonist Ernie Watts; bassists Melvin Lee Davis and Tom Kennedy; drummers Dave Weckl, Ronald Bruner Jr. and Chris Coleman; and percussionist Paulinho Da Costa. Additional players are Bob Sheppard, saxophone; and Rashawn Ross, flugelhorn. And performing with Rit for the first time are guitarists Michael Thompson, Wah Wah Watson and David T. Walker, and pianist Makoto Ozone.

The energetic "Wild Rice" opens the set. One could argue it's the best track on the album. But when you listen to the rest, you're not quite so sure. The remake, arranged by Ritenour and Beasley, is described as a hybrid of something out of the Deep South and Southern California. The background horns, combined with the bass and drum play, give it the feel of one of those 1970s instrumental funk tracks by bands like Brass Construction, Brick or Kool & The Gang. Watts and Beasley contribute solos.

The new songs are the Latin-influenced ballad, "Pearl," a tribute to Rit's mother, "W.O.R.K.n' It" and the moderate groove, "Twist of Rit." Weckl, Ozone and Kennedy contributed to "W.O.R.K.n' It," which is a prelude to "More W.O.R.K.," to be released on an upcoming five-LP retrospective.

"Countdown," because of the different approach to the music, doesn't sound dated like the original. It is livelier but still a slight disappointment. It's not long enough. After the familiar opening verse and chorus are played once, Rit goes right into the middle break, where he updates his solo in grand fashion. From there, the song goes into uncharted territory, like an all-out jam. Samples of the original are mixed in.

Born Lee Mack Ritenour in Los Angeles in 1952, the Grammy Award winner has toured or recorded with many big names over the years. A short list includes the Mamas and the Papas in the 1960s, guest appearances on Steely Dan's Aja (MCA, 1977), Maynard Ferguson's Hollywood (Columbia, 1982) and performing the solo on the Brothers Johnson hit, "Strawberry Letter #23." Rit was a founding member of Fourplay. Other associations include Larry Carlton, Djavan, the GRP All-Star Big Band of the 1990s.

For the past few years, Rit has organized the biennial 6-String Theory competition. In 2010, he released the first recording, Lee Ritenour's 6-String Theory, featuring Rit as more of a role player with stellar performances by fellow guitarists, including Neal Schon, Steve Lukather, Keb' Mo', Vince Gill, Slash, George Benson and Mike Stern. Lee Ritenour's 6-String Theory, Rhythm Sessions (2012) and A Twist of Rit each feature the competition's winning guitarist for that year. The 2014 winner, Tony Pusztai of Hungary, appears on the new release.

The competition now includes categories for piano, bass and drums.

A Twist of Rit commemorates 40 years since Ritenour's debut release as a leader, First Course (Epic) and his the first to feature only his own compositions.

Ritenour says it's very difficult to write 12 new songs. For that reason, he has always included at least one cover song or a remake of his own material.

"Instead of twisting up somebody else's material, I'm gonna twist up my own material, because at this point, I have the luxury of having all this material," Ritenour said during an interview. "So this is the first album ever that all of the compositions are mine. And normally I would never do that, because unless you're Stevie Wonder, or Paul McCartney – Sting, or somebody like that, I don't think you can write 12 strong tunes on any one album. It's very difficult to come up with 12 new tunes that are all, you know, very strong. But in this case, I was able to write some new tunes that I was happy with, plus have the opportunity to go through my library."

For the remakes on the new album, Rit says he and the band took each song, one section at a time. They worked on those sections until they found the best sound. Then they added the sections together to complete the recordings.

The result is A Twist of Rit, a masterful example of taking what's old and making it new.