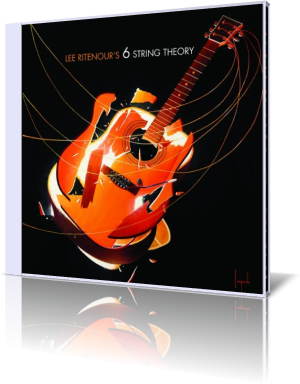 The gear includes Gibson L5, Fender Stratocaster, Gibson Lucille and a Greenfield G4.2. The music is jazz, rock, blues, folk, classical and a few blends. The final ingredient to this party is a guest list that includes George Benson, Robert Cray, Vince Gill, B.B. King, Steve Lukather and many others. The host is "Captain Fingers," Lee Ritenour.

On Concord records is Lee Ritenour's 6 String Theory, a collection of 15 songs that celebrate the world's most popular instrument: the guitar. Produced by Ritenour with John Burk, the set is performed by an all-star cast of renowned guitarists and future stars.

"Am I Wrong" features Keb' Mo' and Taj Mahal. Aided by Harvey Mason on drums, Nathan East on bass and Larry Goldings on Rhodes and Clavinet, the duo share guitar leads and vocals. Mahal also plays harmonica.

Will Kennedy takes the drum seat, with Joey DeFrancesco on organ for "L.P. (For Les Paul)," which features Ritenour and Pat Martino on leads. The energetic vibe is reminiscent of the guitar/organ duo of Wes Montgomery and Jimmy Smith.

Joe Bonamassa and Robert Cray share leads and vocals on one of the few cover songs, Tracy Chapman's "Give Me One Reason." The leads are backed by Vinnie Colaiuta on drums, Tal Wilkenfeld on bass and Goldings on Wurlitzer. The electric styles of Bonamassa and Cray give this an edgy, blues feel.

"Why I Sing the Blues," an early favorite in this set, brings together Keb' Mo', King, Gill, Ritenour, and Jonny Lang. Ritenour only plays rhythm guitar while the others lead and sing. The accompanists are Mason, East and Goldings. It's straight blues with a groove. After the four leads take turns, King ad-libs on the fade.

The set ends with "Caprices, Op. 20, No. 2 and 7," a solo guitar performance by Shon Boublil, a 16-year-old from Canada who earned a spot on this recording by finishing first in the classical division and being the overall winner of the Yamaha 6 String Guitar Theory Competition.

Ritenour partnered with Yamaha, Berklee College of Music and others to hold this international talent search. Hundreds of contestants from more than 45 countries posted YouTube videos to enter, and six finalists were chosen for a competition held in Los Angeles in March 2010. For his success, Boublil made his recording debut and received a full, four-year scholarship to Berklee.

Other guitarists who appear in the set are John Scofield; Slash; Mike Stern; acoustic specialist Andy McKee; Guthrie Govan, Guitar Player magazine's New Talent of the Year for 2009; Joe Robinson, who at the age of 18 won Australia's Got Talent; and Hotei, a Japanese rock star.

Acoustic or electric, there's something here for everyone who enjoys the sound of a six-string guitar. The varied styles of the songs and the superb interaction among the musicians make 6 String Theory a sure thing for repeat play.