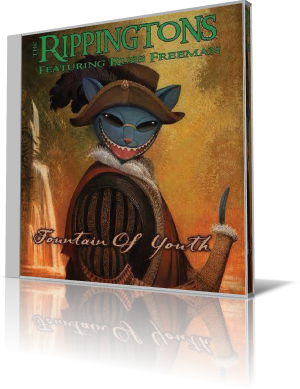 One thing a credits geek looks for in a new recording is to see who the musicians are and what instruments they're playing. One thing that jumps out to a credits geek when perusing Fountain of Youth (Peak, E-One, 2014) by the Rippingtons featuring Russ Freeman is the absence of any musicians other than Freeman. It looks and feels like a solo project.

Freeman, a fabulous guitarist, songwriter and producer, founded the Rippingtons in the middle 1980s. At the time, the group was basically Freeman surrounding himself with a flexible and versatile lineup of musician friends, including Kenny G, Brandon Fields and David Benoit. A few albums later, the group began to take shape with such players as Tony Morales, Steve Reid, Mark Portmann and Kim Stone being regular fixtures, with saxophone duties spread among Paul Taylor, Jeff Kashiwa, Kirk Whalum and Eric Marienthal.

It wasn't until 2003's Let It Ripp that the touring band of Freeman, Marienthal, Stone, Scott Breadman and Dave Karasony was also the session band for the entire album. That configuration remained in place until Stone's departure a few years later. Over the years, Freeman released two solo albums and two recordings with Benoit, the Benoit/Freeman Project. However, this is the first time in Rippingtons history that there appears to be no Rippingtons – only Freeman.

That's the bad news.

The good news is Freeman breaks out a heavy arsenal of stringed instruments, referring to the album affectionately as "Guitar Heaven." The liner includes a graphic showing 15 instruments and two amplifiers used to record Fountain of Youth. Though the Rippingtons featuring Russ Freeman have long stood at the forefront of the smooth jazz format, this is more of an instrumental rock album.

"North Shore" is one of the more upbeat tracks that will likely find its way onto smooth jazz radio. Acoustic and electric guitars are at play, along with some complimentary keyboard work, ocean sounds and chimes. Though not quite as engaging as either, it has a "Club Paradiso" (Life in the Tropics) meets "Stories of the Painted Desert" (Topaz) feel.

"The Sun King" begins tranquilly with a solo piano. Then as the rhythm section kicks in, Freeman begins the melody with an acoustic guitar. He later shifts to electric. The song has a haunting, ethereal quality up until the middle break, when Freeman employs some orchestral maneuverings. Returning to the main theme, the intensity cranks up as Freeman uses both guitars effectively, the electric demonstrating the kind of riveting speed and accuracy longtime fans may remember from songs like "Avenida Del Mar" and "Dream of the Sirens."

Among the instruments Freeman plays are a Stratocaster, a Telecaster, a ukulele, a mandolin and a steel guitar. Fountain of Youth is dedicated to Freeman's wife, Yaredt.