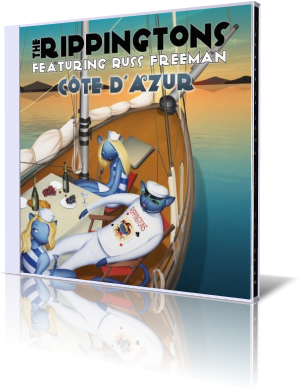 Listening to Côte D'Azur, by the Rippingtons featuring Russ Freeman, is like watching a half each of two different movies. Several songs sound like they're set in dance clubs where techno or electronica reigns. The rest depend less on electronic effects.

Côte D'Azur, translated in English as Coast Azure, is more commonly known in the Western world as the French Riviera. This region of southern France inspired Freeman's songwriting. His wife, singer/songwriter Yaredt Leon, is part French.

In addition to Freeman, the Rippingtons are Rico Belled on bass, Dave Karasony on drums, Bill Heller on keyboards and Jeff Kashiwa on saxophones.

Sainte Maxime is an upbeat groove that features some of Freeman's elegant guitar play, partnered with saxophonist Jeff Kashiwa's crystal clear alto. The bass, drum and keyboard parts are subtle but effective. Guitar and sax blend beautifully on the melody.

Postcard from Cannes is a picturesque soundscape. Led by Freeman's acoustic guitar, this track has a slight tropical air. The song also features a bass solo by Belled, a rarity on a Rippingtons studio recording. A charming companion piece is Passage to Marseilles. With a Middle Eastern influence, this track is highlighted by Karasony's drum solo. It is not clear from the information provided whether this is all Karasony or if Freeman performed the percussion.

Provence may be one of the most beautiful of Freeman's ballads. Belled, Karasony and Heller lay down the placid groove behind the electric guitar. Though inspired by an afternoon ride through wine country, it could easily be a midnight stroll on the beach at Cannes.

All 10 songs on Côte D'Azur clock in at 4 ½ minutes or less. The time restraints are no guarantee of airplay. In a time when many radio stations that played smooth jazz have either shut down or changed formats, and those that remain active are more apt to play old music or R&B than new releases that are safely within the format, it's puzzling as to why some in the industry believe keeping the music short will generate popularity.

Still, Freeman demonstrates more freedom in his writing than he did with 2009's Modern Art. The music is fresher and doesn't seem forced. Also, it helps plenty that Belled and Karasony are more involved this time around. On Modern Art, it was as if they both were merely going through the motions – striking the notes according to instruction, rather than feeling the music.