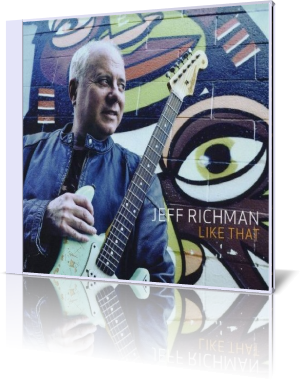 It's Like That when guitarist Jeff Richman fuses jazz and rock into a new recording.

Richman's extensive professional background includes performing on guitar, composing, arranging and recording music in many genres, and teaching in academic and private settings. He has produced 16 solo albums and toured worldwide with notable musicians over a 35-year career. Among those he has performed with are Ray Barretto, Flora Purim, Airto Moreiro, Eumir Deodato, Blood Sweat and Tears and Gerry Mulligan.

For his 15th album as a leader, Richman is accompanied by a variable lineup of all-star session players: Will Kennedy, Vinnie Colaiuta and Steve Hass on drums; Dean Taba and Neil Stubenhaus on bass; Deron Johnson on Fender Rhodes; Mitchel Forman on keyboards; and Larry Goldings on organ. Percussionist Alex Acuna appears on all but "Touch and Go."

The title song is a moderate groove, featuring Kennedy, Taba and Johnson. Acuna's congas give it an extra punch. Richman's lead is smooth. Kennedy rolls through the toms to set up Johnson's solo. Taba holds his own, but it's Forman and Kennedy who have the most to say about this track.

"Awful Pretty" features Colaiuta, Stubenhaus and Forman. After a spacey opening, the song shifts into an upbeat tune. Guitar and keyboard harmonize on the melody. Colaiuta mixes up a nice cymbals cocktail during the bridge before Richman's solo. Drums and bass are well engaged, even when the guitar or keyboard is out front. Things heat up during Forman's solo. He tickles the keys at blazing speed, challenging the others to keep up.

Hass, Stubenhaus and Goldings provide accompaniment on "Tsuyako." Richman's play is softer, more mellow, but Hass' well-timed strikes on the snare or cymbals eliminate any hint of tranquility. The bass grooves behind the organ solo, with Hass and Acuna adding depth.

One of Richman's strengths – apart from his skills as a musician and songwriter – is his ability to select just the right mix of sidemen. Precision is personified by the combinations and the players' interaction. This set of 10 original songs shows that Richman's got it Like That.