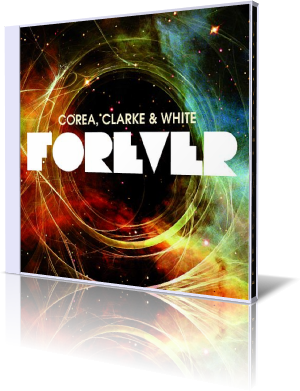 During the core of its heyday, the electric jazz fusion band, Return to Forever, featured Chick Corea on keys, Stanley Clarke on bass and Lenny White on drums. The trio returns to glory with Forever, a two-disc set on Concord Records.

Although each musician has a long, distinguished discography as a front man and as a session player with other ensembles, it was during their spirited 1970s association that they made the world stop and take notice. The band got back together in 2008 and, in 2009, went on a world tour, "RTF Unplugged."

Disc 1 is a sampler of the tour, with all-acoustic performances of some jazz standards, as well as a few Corea compositions, a new one by Clarke and some RTF pieces. Among the selections are standards "On Green Dolphin Street," "Waltz for Debby," Corea's "Bud Powell" and RTF's "Senor Mouse."

These songs are done with just enough familiarity to bring back memories of the original recordings, and even RTF before electric instruments became part of the package. Yet, the extended concert performances give listeners a chance to savor the moment. Corea, Clarke and White complement one another well as a group, and each is a master soloist.

On Disc 2, Corea switches to electric keyboard, and the trio is joined by RTF guitarist Bill Connors, violinist Jean-Luc Ponty and R&B vocalist Chaka Khan during a one-night-only concert at the Hollywood Bowl in Los Angeles. Ponty revisits "Armando's Rhumba," which he recorded with RTF. White and Connors sit out this piece, leaving Corea, Clarke and Ponty to carry the load. And they do it well, mixing leads and responding to each other's calls.

R&B vocalist Chaka Khan steps in and shows her jazz chops on "High Wire – The Aerialist." Her scats are worthy of Ella Fitzgerald, and her singing as rich and delightful as any. Khan also performs on an upbeat rendition of "I Loves You, Porgy."

Corea is a 17-time Grammy winner, a National Endowment for the Arts jazz master. Starting as an apprentice with such artists as Stan Getz, Sarah Vaughan and Miles Davis, he later emerged as a leader of a variety of sets, including Chick Corea Elektric Band and Chick Corea Akoustic Band.
Clarke also gigged with Getz, as well as Joe Henderson and Horace Silver. He later formed a partnership with George Duke and has scored several films, including Boyz 'N' the Hood, Passenger 57 and What's Love Got to Do with It? White contributed to two landmark fusion recordings, Davis' Bitches Brew and Freddie Hubbard's Red Clay. He also fronted the bands Best of Friends and Twennynine.