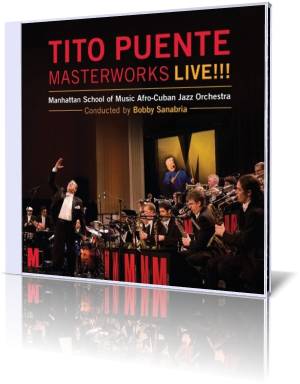 Born Ernest Anthony Puente Jr., master percussionist Tito Puente is highly regarded as a driving force in the marriage between Afro-Cuban music and jazz. Though he died in 2000, his music – and the impact he's had on others – lives on.

The Manhattan School of Music Afro-Cuban Jazz Orchestra presents Tito Puente Masterworks Live!!! (Jazzheads, 2011), an hour-plus set of 13 brassy, percussive songs that were written or arranged by Puente. The concert was recorded on November 3, 2008, in the John C. Borden Auditorium at the institution. The album was produced by conductor Bobby Sanabria, who also contributes voice and percussion on selected tracks.

Danny Rivera reconstructed Puente's arrangement of "Bohemia (Birdland) After Dark," which features Alex Lopez on tenor sax, Norman Edwards on vibes, Anthony Stanco on trumpet, Eddy Hackett on bongo and Christian Sands on piano. With multiple percussionists on this and other tracks, the song is busy in a notes-per-beat sense. The band's enthusiasm carries over into the audience, as cheers can be heard at various points.

"Cuban Nightmare" is one of the longer pieces in the set. All six members of the saxophone section get the spotlight on this one, with an assist by Cristian Rivera on timbales. The reed players move in and out, in a musical equivalent to a roundtable discussion, at times talking over one another. The overall feel is of good-natured competition where all players are in it for the thrill of playing.

One can almost hear Puente playing. The orchestra not only does justice to his music but also captures the spirit of his style of playing. It's an appropriate tribute.