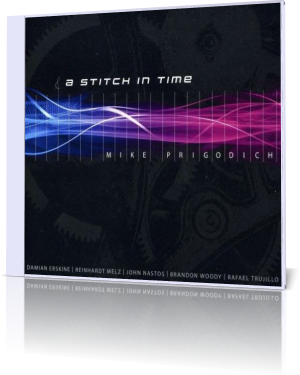 Call it instrumental rock, fusion, jazz-rock or something entirely different. Whatever you call it, A Stitch in Time (Mexican Mocha Music, 2011) by pianist Mike Prigodich is melodically safe for the mainstream, and yet challenging for those who like things a little different. It's like the five-piece Chick Corea Elektric Band added a trumpet and percussion.

Inspired by multiple Tour de France winner Lance Armstrong, cancer survivor Prigodich raised more than $10,000 to fund this project, which fulfills a lifelong dream. The Portland, Oregon, resident assembles some very competent talent: Damian Erskine on bass, Reinhardt Melz on drums, John Nastos and Patrick Lamb on saxophones, Brandon Woody on guitar, Rafael Trujillo on percussion, Paul Mazzio on trumpet, Tim Jensen on flute and Toshi Onizuka on palmas.

"A Measure of Luck" has the unusual time signature of 13/8. That makes for some interesting phrasing. The background rhythm has a Latin feel. Prigodich deftly handles the keys, while Erskine, Melz and Trujillo give the piece plenty of texture. Lamb stretches out on the tenor sax.

The appropriately titled "At Sixes and Sevens," named for the dual time signatures, has a strong, Elektric Band vibe. Prigodich and his companions play this and other tracks in a style similar to the ensemble of Corea, Marienthal, Pattituci, Gambale and Weckl. Among the highlights is Erskine's solo about five minutes into the song.

Prigodich performed with the jazz ensemble at Wheaton College, has accompanied a gospel choir and co-led a rock band. He lists Corea and several other pianists among his inspirations. Others who have helped shape his skill straddle the lines between rock, fusion and other genres, including Stevie Wonder, Toto, Kansas, Spyro Gyra, Yellowjackets, Chuck Mangione, Esperanza Spalding, Michael Brecker and Victor Wooten.

Prigodich's day job is in the software industry, but if A Stitch in Time is how he spends his off hours, here's hoping the world finds a lot of fabric that needs mending.