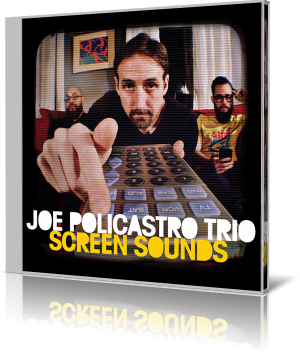 Take what is known and juice it up. The Joe Policastro Trio revisits some themes from popular television series and movies on Screen Sounds (JeruJazz Records, 2017).

The trio consists of Policastro, bass; Dave Miller, guitar; and Mikel Avery, drums.

An ambitious taking, Policastro melds two hit songs from a hit movie in one of the coolest tracks in the set. "Everybody's Talkin' – Midnight Cowboy" moves back and forth between the two. One is a slow, easy listening ballad. The other is an upbeat, pop/folk tune. And the trio weaves in and out of each, changing the pace, and mood, as it suits them. Policastro leads the first melody, but gives way to Miller, who takes off, mixing familiar phrases from the two songs, with improvisation. The signature, descending four-step phrase from "Midnight Cowboy" is worked in and out of numerous passages. As the piece starts to wind down, Policastro uses the bow on his bass to take one more shot at "Everybody's Talkin'" before handing it back over to Miller.

"Summer Kisses, Winter Tears" has the feel of a spaghetti western, the type where the hero's name is never given. Miller leads most of the way, augmented by a subtle vocal chant.

Some of the titles may not be familiar to everyone, but that shouldn't get in the way of a good listening experience. Other songs covered by the trio include "Angela (Theme from 'Taxi')," "The Godfather (Main Title and Love Theme)," "Cool Hand Luke (Main Title)," and "Nadia's Theme," a song written for a gymnast during the 1976 Summer Games, but subsequently adopted as the theme to the daytime drama, "The Young and the Restless."

Policastro grew up in a jazz, classical and popular music scene in Cincinnati, Ohio. After time in Germany, he moved to Chicago, where he is now based. Associations include Diane Schuur, Jeff Hamilton, Phil Woods, and Pat and Debby Boone. In addition to other gigs as an instructor, he is a jazz director at the Midwest Young Artists Conservatory.

Screen Sounds is the trio's third release.