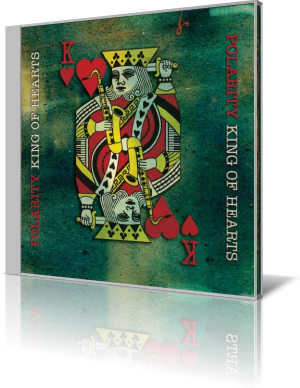 Colorado-based saxophonists Pete Lewis and Clare Church have unleashed a new project, Polarity, an ensemble of six that includes the two leaders and their son, drummer Patrick Lewis. King of Hearts (Tapestry Records, 2012) presents 10 original compositions that are engaging, fresh and all-around fun.

Completing the ensemble are pianist Ben Markley, guitarist Eric Wiggs and bassist Ron Bland. The group's inspirations are drawn heavily from the writings of Don Grolnick and the Yellowjackets. The concept is that the rhythm section provides an integral part of the orchestration rather than just serving as background for the leads.

"Jackets" is a lively groove that gets the set going. A nod to the Yellowjackets, this piece features some of the 'Jackets' signature stop-time syncopation, often with two or more instruments blending on the melody. Lewis stretches out during the middle solo, leading the way with plenty of help from keys, drums, guitar and bass. Wiggs follows and then the keyboard.

"Song for Patrick" largely features the bass line of Bland and Patrick Lewis' dexterity with the sticks. "Song for Robin," written for the lead couple's daughter, who plays guitar and writes music, gives Wiggs a bit more time out front.

One small drawback to King of Hearts has nothing to do with the music. My copy of the CD doesn't identify the musicians by instruments. And with the notes about the inspiration for each song written in first-person without attribution, a listener depending solely on the liner for information won't know who are the parents to Patrick and Robin.

Musically, however, King of Hearts is rock solid with tight musicianship throughout.