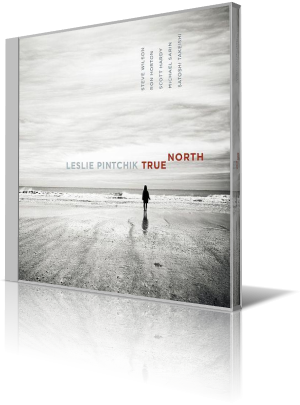 A stew whose ingredients include straight jazz, sassy blues and classic soul might be a good way to describe what pianist Leslie Pintchik cooks up with True North (Pintch Hard Records, 2016). With original titles that play on common sayings, like "Just Sayin'" and "Crooked as a Dog's Leg," and a small assortment of covers, Pintchik serves up a delicious meal for the ears.

Performing with Pintchik are Scott Hardy, bass; Michael Sarin, drums; Satoshi Takeishi, percussion on all but the closing track; and Steve Wilson, alto and soprano saxophones, and Ron Horton, trumpet and flugelhorn on selected tracks.

"Tumbleweed" is a moderately paced, ambient piece. One can visualize the Nevada desert, where the piano represents traveling the countryside, with the soft play of the horns being the wind that causes the tumbleweed to roll across the landscape. Bass and drum rhythms add just a touch of samba, and the percussion suggests an animal or two that come across the tumbleweed's path. Horton and Wilson contribute solos.

"Crooked as a Dog's Hind Leg," one of six Pintchik originals, plays up that saucy, spicy element. It's perfect for an old-school jukehouse, a street party or a festival celebrating regional delicacies, whether it be fried catfish, boiled crawfish or shrimp jambalaya. Horton and Wilson trade licks during the middle break, while Hardy, Sarin and Takeishi add seasoning. The horns go at it with vigor during one stretch where it seems everyone who isn't holding an instrument is dancing like no one's watching.

Pintchik was a teaching assistant in English literature at Columbia University, where she received a master's degree in philosophy in 17th-century English literature. She emerged on the jazz scene playing in a trio in Manhattan. Her debut release was 2004's So Glad to Be Here. True North is her fifth recording as a leader.