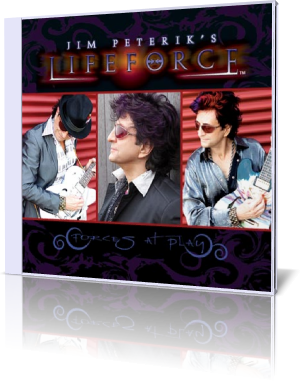 Pop, rock, sass. All come to mind while playing Jim Peterik's Lifeforce – Forces at Play (SMC Records, 2011). The singer, songwriter, producer and guitarist made his mark with rock groups Ides of March ("Vehicle") and Survivor ("Eye of the Tiger"). Now, he culls all of his musical influences, including jazz, and stirs an elixir of love, joy and good vibes.

Among the notables joining Peterik on this venture are Steve Oliver, Mindi Abair, Acoustic Alchemy, Chieli Minucci, Jessy J, David Pack, Alex Ligertwood, Nick Colionne, Steve Cole and Peterik's son, Sijay.

The set opens with "Forces at Play," featuring Cole and Minucci. It's an upbeat, sax-led instrumental piece that represents Peterik's "jazz that rocks" statement. Abair plays sax and sings lead on "'Sall Good." The lyrics again emphasize the overall vibe of the album while paying tribute to jazz legend John Coltrane. The shuffle beat gives this one a swinging groove.

Peterik sings lead with Jessy J on sax for "Jazzy Lady." This one brings a touch of old-school soul. Like several of the vocals, the lyrics not only focus on the character but also honor jazz greats like Dizzy Gillespie. "Homage" is another vocal piece that pays tribute to soul artists, such as Jackie Wilson and Stevie Wonder, among others.

Lifeforce isn't just about honoring music stars of past and present. It's also Peterik's expression of his influences without adhering to standard form. When other artists are doing cover albums – jazz standards, or jazz interpretations of pop, rock and soul hits – Peterik presents new music that bridges the music of the 1970s that influenced him with contemporary pop, or smooth jazz, sounds.