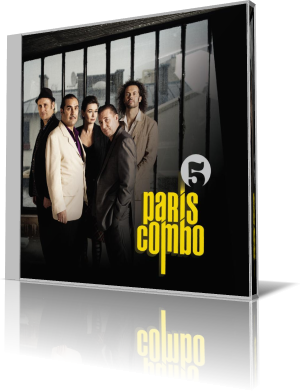 Jazz with a French twist. That's
5
(DRG Records, 2013) by Paris Combo.
Paris Combo consists of Belle du Berry, lead vocals; Potzi, guitar; Francois Jeannin, drums, percussion and vocals; David Lewis, trumpet, flugelhorn and piano; and Emmanuel Chabbey, contrabass. A string trio also contributes: Renaud Guieu, cello; Floriane Bonnani, violin; and Jeremie Pasquier, viola.
"Je Te Vois Partout" has a bit of a Bourbon Street parade vibe. Like many of the songs in this set, it combines elements of jazz with French folk sounds. It's right at home in a jazz dance club or part of the soundtrack for
Casablanca
.
That "Goodbye Pinnochio" has an English title is misleading. The lyrics are French. Only the title is in English, uttered at the end. Still, one need not understand the words to enjoy the music. Exceptional play by the musicians, from piano riffs to grinding, muted trumpet to the lively play of guitar, bass and drums. Du Berry sings with a joy and verve that makes all the songs a pleasure.
"Chaque Fois" is a toe-tapping, finger-snapping tune. Du Berry displays the right amount of sass, aided by a tight rhythm section. Lewis contributes a brief, but bright trumpet solo.
5
is Paris Combo's first release since 2004's
Motifs
. The group began in the early 1990s when du Berry, Potzi and Jeannin first performed together in Paris as members of a quirky, retro revue before collaborating at the closing ceremony of the 1992 Winter Olympic Games at Albertville, France. Lewis joined in 1994.
The songs are all about love and the many extremes, from immediate attraction to lost love, broken love, the dream of love, anger produced by love, and more.