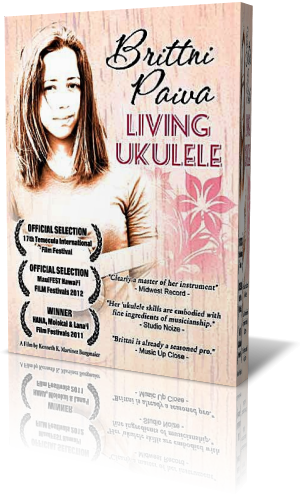 Upstart ukulele sensation Brittni Paiva has gone visual. The 2011 Entertainer of the Year, MauiFest Hawaii, has released Living Ukelele (Talmidim Productions, 2011), a film by Kenneth K. Martinez Burgmaier.

The DVD features live performances, interviews, behind the scenes, a music video and ukulele lessons. It's a fine mix of music and visual paradise. The ukulele is mostly associated with Hawaiian music, traditional songs from the islands. However, Paiva uses the instrument to play several styles, including jazz, blues, pop, rock and world music.

Song highlights include covers of the jazz standard, "Take Five," and Maroon 5's hit, "Sunday Morning."

The hour-long film balances the history of Paiva's music career and her progress as a recording artist, with a personal look at Paiva without her instrument, including segments on her husband's passion for cars and Paiva taking surfing lessons.

Most of the performance clips are taken at music festivals. The interviews are done in a variety of locations, from a volcano to a waterfall. Most scenes are in Hawaii, but Australia also makes an appearance.

One segment visits KoAloha, a plant which manufactures ukuleles. Executives at the plant talk about the care that goes into making an instrument and trying to match a particular ukulele to suit the buyer. That is followed by a visit to an active volcano. Paiva talks about the beauty of Hawaii and the experience of going from an area where there's snow, to a warm day to the scorching heat of molten rock in a single day. After introducing the viewer to the site, she plays with a lava flow in the background.

One of the film's highlights is taken from the first Lana'i Jazz Festival. Three-time Grammy winner Tom Scott was among the featured artists. He invited Paiva to perform with his band. With Scott, Paiva and the band playing "Watermelon Man" underneath, Scott says in an interview that the ukulele is an unfairly maligned instrument, pointing out that it's not what "Tiny Tim plays." And he says Paiva plays it like a guitar, giving her a wide range of possibilities.

Also included are a world record attempt for the most people playing ukulele at the same time, and "Fusion: West, Fusion: East," a music video in which Paiva travels back in time, where she meets Samurai worries, Taiko drummers and witnesses a Japanese ceremony.

Paiva was 23 years old during the making of Living Ukelele. Her next CD will be produced by Scott and is due for 2012 release. Fellow Hawaiian and six-time Grammy winner Daniel Ho also appears.







www.brittnipaiva.com