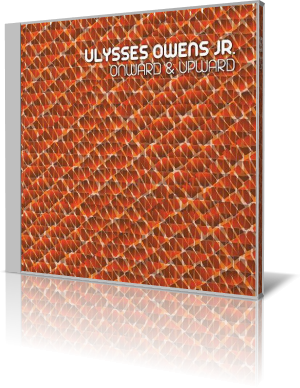 Ulysses Owens Jr. is counted among the new breed of young drummers on the New York scene who are fast approaching veteran status. Onward & Upward (D-Clef Records, 2014) establishes that status.

Owens is a member of bassist Christian McBride's trio. The Jacksonville, Florida, native and 2006 Julliard School of Music graduate brings a mix of original songs and covers on his third outing as a leader. Accompanying him are Anat Cohen, tenor saxophone and clarinet; Jason Palmer, trumpet; Michael Dease, trombone; Gilad Hekselman, guitar; Christian Sands, piano; and Reuben Rogers, bass. Appearing on selected tracks are Charles Turner, vocals; Adam Rongo, alto saxophone; Benny Benack, trumpet, vocals and percussion; and Matthew Rybicki, bass.

Onward and Upward is bookended by two drum solos, the title song in which Owens is complemented by hand claps, and "Drum Postlude," which pays homage to Max Roach's "The Drum Also Waltzes."

Guest vocalist Charles Turner leads on the remake of the Stylistics' "People Make the World Go Round." The soulful horns and guitar fills enhance an already ear-friendly tune. Owens shows off his skills underneath the melody and solos by Cohen, Sands and Rogers, giving the toms plenty of work.

"SST" begins ominously with the piano, bass, drums combo accented by the horns. The song quickly shifts into a haunting movement, with Dease out front, accented by cymbal splashes and elegant play from the others. The drama unfolds with an all-in effort. Then another shift to Hekselman, who plays freely with a soft underscore that gradually builds up as Owens and Sands lock in. After Cohen takes a turn, Sands goes wild on the keys, reaching a powerful climax before reverting to Dease, revisiting the opening.

In addition to McBride, Owens has been sideman for such artists as Kurt Elling, Lee Konitz, Benny Golson, Russell Malone and Mulgrew Miller. Owens dedicates this recording to Miller, his mentor.