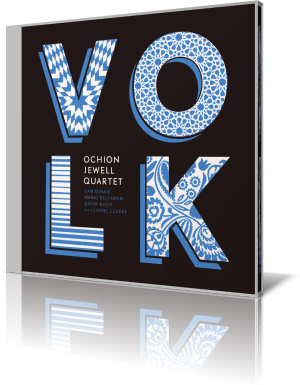 No frills. Off the beaten path. Interesting. That is the blend of jazz with world folk music presented by the Ochion Jewell Quartet on Volk (2015).

Saxophonist and composer Jewell, whose first name is pronounced "Ocean," has a compelling story to tell in the months that preceded this recording. He overcame a brutal beating at the hands of New York City police in a wrongful arrest. Using the resources acquired in an out-of-court settlement, he produced Volk. Accompanying him on this journey are Amino Belyamani, piano; Sam Minaie, bass; and Qasim Naqvi, drums. Guitarist Lionel Loueke sits in on two tracks.

The songs are grouped into four suites. "Kun Mun Kultani Tulisi" opens the second grouping. Jewell's tenor begins with a gray, mournful melody. As the other musicians come in, the tone becomes stronger, more dramatic though a bit brighter. About halfway through, the others stop, and Jewell expresses softly, freely. Keyed by the drum rolls, the next stage is like an adventure, a trek through unknown territory wherein the music reacts to whatever the travelers encounter.

Loueke opens "Gnawa Blues" in true, old-school blues fashion, throwing in a few twang licks. After an extended introduction, the pace picks up. The guitar maintains the lead with some subtle underscore by the other instruments. The piano steps out for a bit. The bass and drum lines are mostly constant. And the sax adds a haunting quality. The piece evolves into a groove where everyone is seemingly on a different track, yet all tracks complement one another. It's like a tribal jam where village musicians come together. One person starts and others join in, each feeding off what the others are doing. After a few minutes of this, the song shifts into high gear, with Naqvi becoming a bit more emphatic.

Jewell grew up in the Appalachian area of southeastern Kentucky. Exploitation in coal mines and more recently drugs, poor education and economics drove him to leave his home. Further exasperating his interests, his county was a dry county – no liquor. Where there's no liquor, there tends to be no venues for live music. Through a friend, Jewell found himself studying classical saxophone at the University of Louisville and continuing later at CalArts. He was mentored by Charlie Haden, Wadada Leo Smith and Joe LaBarbera. Jewell is an original member of the Pleasure Circus Band and a member of the BedStuy Ewe Ensemble. He has also performed on an episode of NBC Television's 30 Rock.

One morning in 2011, Jewell was on his way home from the Bedford-Stuyvesant neighborhood of Brooklyn. He was smoking a hand-rolled cigarette at the train station and minding his own business when he was approached by a group of men in street clothes. They attacked him, called him different names and asked questions he couldn't answer. Thinking he was being mugged, Jewell offered them money from his pocket, but they refused. One choked him into unconsciousness. When he awoke in handcuffs, Jewell realized the men were plainclothes police officers who, upon realizing their mistake, produced an empty vial that had contained crack cocaine. Jewell spent 27 hours in jail before a judge dismissed the charges. He was subsequently diagnosed with PTSD and anxiety disorder. He sued the NYPD and settled out of court. His story later became a chapter in Rolling Stone writer Matt Taibbi's book about injustice in America, The Divide.
Of the experience, Jewell says he wanted justice. "My goal was to get these guys' badges taken away. But the lawyer just laughed and said, 'That never happens. If you want justice in New York, go for money.'"

The emotional and psychological scars of that experience are merged with Jewell's classical training and love of world folk music. They all come together in Volk, his second release as a leader.