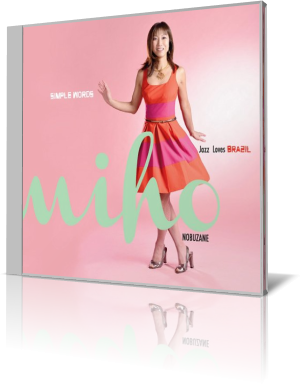 Jazz Loves Brazil
(Miho Nobuzane Music, 2014) seems like stating the obvious. For several decades, jazz musicians have incorporated traditional Brazilian sounds into their music. And Brazilian songwriters have created music that easily translates into jazz. Pianist Miho Nobuzane follows in their footsteps.
The ensemble is primarily the duo of Nobuzane and bassist Tetsuya Sato, with a parade of drummers completing the trio. Mauricio Zottarelli handles the sticks on 11 of the 15 tracks. Other contributes are Bernard Purdie and Adriano Santos. Filo Machado sings and plays guitar on four tracks. Percussionist Dende sits in on three tracks. Singer Carla Cook and flutist Oriente Lopez perform on one track each. For her part, Nobuzane plays piano on most tracks, keyboards on one and melodica on another, she sings lead on four and backs up Cook on one.
"Avenida Atlantica" features Michado on vocal and guitar. Zottarelli has drum duties on this one. It's a delightful, celebratory tune, highlighted by Michado's scatting. During one series, he mixes in a bit of yodel. A radio edit of the song appears at the end of the set.
"You Stay in My Heart" is a ballad that features Cook and Purdie. It's a charming, 3/4 song. Cook's, earthy alto voice is an ideal companion to the piano.
Mainly performing in New York, Nobuzane was born on Osaka, Japan, where she majored in classical piano. She has performed at major New York City venues, such as Blue Note, Kitano NY, Jazz at Lincoln Center and has toured the world. Among her recording associations are Purdie, Michado, Cook, Martha Reeves and the Vandellas, and Elisabeth Winters.
Jazz Loves Brazil
is a pleasant mix of jazz, mainstream ballads and Brazilian rhythms.