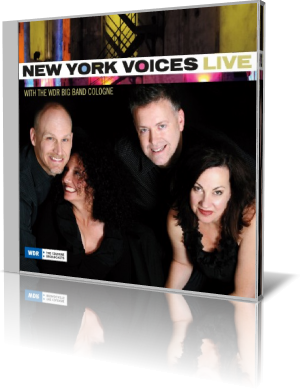 It's not often that a vocal jazz group puts out an album where nearly every song is longer than five minutes. However, when that group is teamed with a fabulous orchestra, extended songs are what you get. New York Voices Live with the WDR Big Band Cologne (Palmetto Records, 2013) presents 10 songs that balance lyrics with instruments.

Celebrating their 25th anniversary, the Grammy-winning New York Voices are Kim Nazarian, Lauren Kinhan, Darmon Meader and Peter Eldridge. The WDR Big Band is an 18-piece orchestra based in Cologne, Germany. Over the years, the band has participated in several stunning live performances with such jazz heavyweights as Randy and Michael Brecker and Josef Zawinul.

The set kicks off with a swinging rendition of Paul Simon's "Baby Driver." The Voices blend seamlessly as a unit, and even meld with the horns. Guitarist Paul Shigihara plays his middle solo like a rock star. Karolina Strassmayer adds an alto sax highlight. Eldridge provides the lead voice.

The ensemble delivers an epic with Oliver Nelson's "Stolen Moments." Meador is the lead vocal. When the others come in, they sound like a finely tuned saxophone section that speaks words. After performing the trademark melody, the Voice enter a group scat, setting up the throaty trombone solo by Ludwig NuB, followed by Heiner Wiberny on alto sax. The Voices subtly offer wordless chants underneath the musicians.

This recording resulted from a 2008 concert featuring the combined groups in Cologne. The songs are a mix of old songs that New York Voices have performed over the years and three selections added to their repertoire.