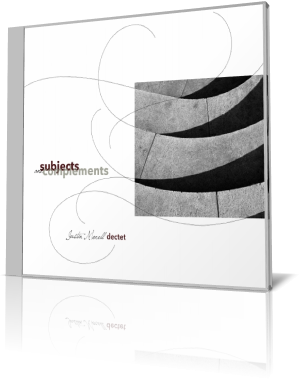 Normally, an ensemble of this size is referred to as a band, group or even orchestra. The term "dectet," which is to 10 what quartet is to four, is not mainstream. That hardly matters, as the Justin Morell Dectet delivers with Subjects and Compliments (Sonic Frenzy Records, 2013).

This set of all-original music features guitarist Justin Morell with 10 other players. They are Bob Sheppard, alto and soprano saxophones; Ben Wendel, tenor saxophone and bassoon; Matt Otto, tenor saxophone; Phil O'Connor, bass clarinet, tenor and soprano saxophones; John Daversa, trumpet and flugelhorn; Alan Ferber, trombone; George Thatcher, bass trombone; Leonard Thompson, piano; Damian Erskine, bass; and Mark Ferber, drums.

"The Wobbler" is underscored by a nearly monotonous but playful piano beat. The horns blend for the quirky melody, punctuated by clever stick work by Mark Ferber. As things settle down, Erskine takes the bass out for a "let's see where the wind takes us" jaunt, followed by Daversa's own excursion. After the solos, bass and trombone unit for an alternate take on the melody. The piano reintroduces its original beat, setting up the song's ending.

"O," is the first track to feature the leader. This slow, charming piece could be romantic, reflective or expressive of some other quiet mood. The guitar leads the introduction but soon steps back for the soft brass and winds. Much of the song is like a loosely framed structure where the musicians are encouraged to just play. Each horn is doing its own thing, but in a way that gives all equal emphasis.

The album also has five fugues. In the liner notes, Morell explains these pieces follow the tradition that dates back to the 1700s. A fugue presents a melodic idea that is played by the first voice – a single instrument or group of instruments, such as a violin section in a symphony orchestra – and then transposed by the second voice. While each voice answers, the preceding voice continues along a different track.

Morell received a bachelor of arts degree at UCLA, a master of arts from California State University East Bay and a Ph.D. from the University of Oregon. His father, John, is a jazz guitarist, and grandfather Carl Fischer composed such songs as "You've Changed" and "We'll Be Together Again." Morell is assistant professor of music at Georgia Perimeter College in Atlanta, where he teaches music theory.